GodWaffle
Iron Miner
Join Date:

4/21/2011

Posts:

297

Member Details
Terra Nova Mod
Hello people, I've had this idea for a mod since I watched the first episode of Terra Nova (
Click here if you've never heard of it
), and the idea is to create a mod that replicates the environments shown in the series. Honestly, as soon as I saw the huge mountains and jungles, I instantly thought "This would make a great mod in Minecraft." And I've decided I'd like to follow up on that idea.
So, if you'd like more information, here we are!
Differences to the Normal World
Riptonicite Ore generates in the world
Riptonic Blocks can be used to make the 'Time Rip' (Portal)
Fossils (?)
Also, one feature that may be stupid, but would fit the TV show: Earth is dying, and so you have about Five days or so to leave to the Terra Nova dimension. Leave your thoughts on this!
The Terra Nova Dimension
Dinosaurs
New type of grass and dirt (richer and greener)
Crazy terrain generation (Check below for reference images)
Meteoric Gold, Iron and Diamond (More powerful than Ore forms)
New food items
Volcanic Biome (?)
Jungles full of tall trees and leaves (bushes), use a Machete to cut through easily.
New Ores
Sixer Mob (Aggressive Human mob) - Personally don't like this one, but others might.
Blocks to create a boundary (stops larger dinosaurs from breaking into your town, etc)
I'll add on to this list once I think of more ideas.
Conceptual Images
______________________________________________________________________________________________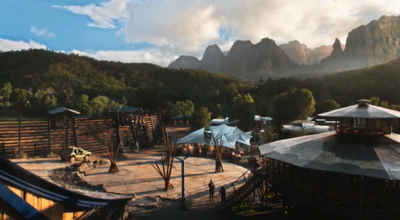 ______________________________________________________________________________________________
Now, to be quite honest, I'm
fairly
new to Java, I have been working on a mod though: Lunacraft (
Click for topic
) which is ready for a release, I just need to wait until 1.9 since ShockAhPI is broken for 1.8, and that's the main API behind the mod. So once I make a first release of Lunacraft, then I'll want to work on this mod.
HOWEVER, I'm not so good with some things in modding (terrain generation, model making, sound effects, etc) I can make blocks and items pretty well, as long as they aren't too complicated. So what I need is perhaps a small team to help, a modeller, experienced coder and sound artist would be perfect. A graphical artist for textures would be alright too, I'm OK at making textures though.
Anyway, please tell me what you think of this idea, and if interested, either post here or send me a message. Also, vote in the poll!
If you'd really like to support the mod's development, you can put this in your signature:
[center][url=http://www.minecraftforum.net/topic/722032-minecraft-terra-nova-mod//][img]http://i36.photobucket.com/albums/e11/ben981/terranovasig.png[/img][/url][/center]
Thanks for taking your time to look through this,
-GodWaffle