iKP_42
Tree Puncher
Location:

Bangkok, Thailand

Join Date:

10/9/2010

Posts:

22

Member Details
Hello again,
I've searched, and found this:
viewtopic.php?f=25&t=81885&p=1247328&hilit=Sign+text+color&sid=e88828f145a9498b97d47fa96ee02b7e#p1247328
But it's outdated and no one replied.
So, I'm asking you... Is it possible to change the colour of the text on signs?
Why? Because I changed my sign skin to this: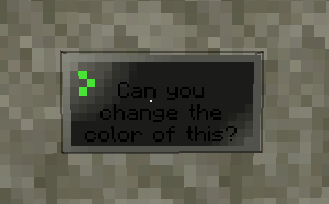 And I can't see the text.
Please help

Founder of the WaterHazard Clan.
Server: WaterHazard.dyndns.info