AcidicTaco

Gold Miner
Location:

Martinez

Join Date:

7/24/2010

Posts:

368

Minecraft:

AcidNotation

Member Details
Virtual Reality texture pack
created by AcidicTaco
The "HUGE UPDATE"
thanks to some encouragement from people on DeviantArt I decided to update this texture pack. This update includes not only support for the 1.2 MC update, but also includes changes to the GUI, Items, and much more. On top of all this I released this texture pack in 7 different color forms! The only thing left to do after this is change the mobs textures!
ENJOY!
current version: V0.9.1
Texture Pack in Red
Texure Pack in Orange
Texture Pack in Neon Green
Texture Pack in Teal
Texture Pack in Blue
Texture Pack in Purple
Texture Pack in Hawt Pink
I want all the colors!
Questions (HELP ME)
-what should mobs change to?
-how can I get font changes to work?
Information
This is my first texture pack for mincraft, but not my first art or game mod creation. This texture pack is what it says, a Virtual Reality texture pack. Everything is meant to look like a green virtual reality world with a my specialty tech art design. I hope you enjoy using this! Post your thoughts and such please!
Version Info
Version 0.1
-VR texture pack released
Version 0.2
-clay fixed
-changed smoke to a bunch of 0's and 1's to represent code breaking off
-added reeds, farmland
-recolored nether blocks and saplings
-flowers are now changed to a couple of random detail objects
-diamond blocks are now speakers! (PARTY TIME!!!!)
-record player has spectrum on side now
Version 0.9
-ore blocks changed
-1.2 textures added
-7 different color versions!
-gui and other content modded
-much more...
Version 0.9.1
-fixed diamond and redstone ore colors
Future updates
-
sky texture change/removal of clouds
(complete!)
-
nether textures
(complete!)
-
change underwater to green water (same for lava)
(complete!)
-
change tool textures (bow will become a lazur gun! XD)
(complete!)
-
find a texture for unmined ore blocks
(complete!)
-change mob skins (need ideas)
Screenshots
thanks to noahtek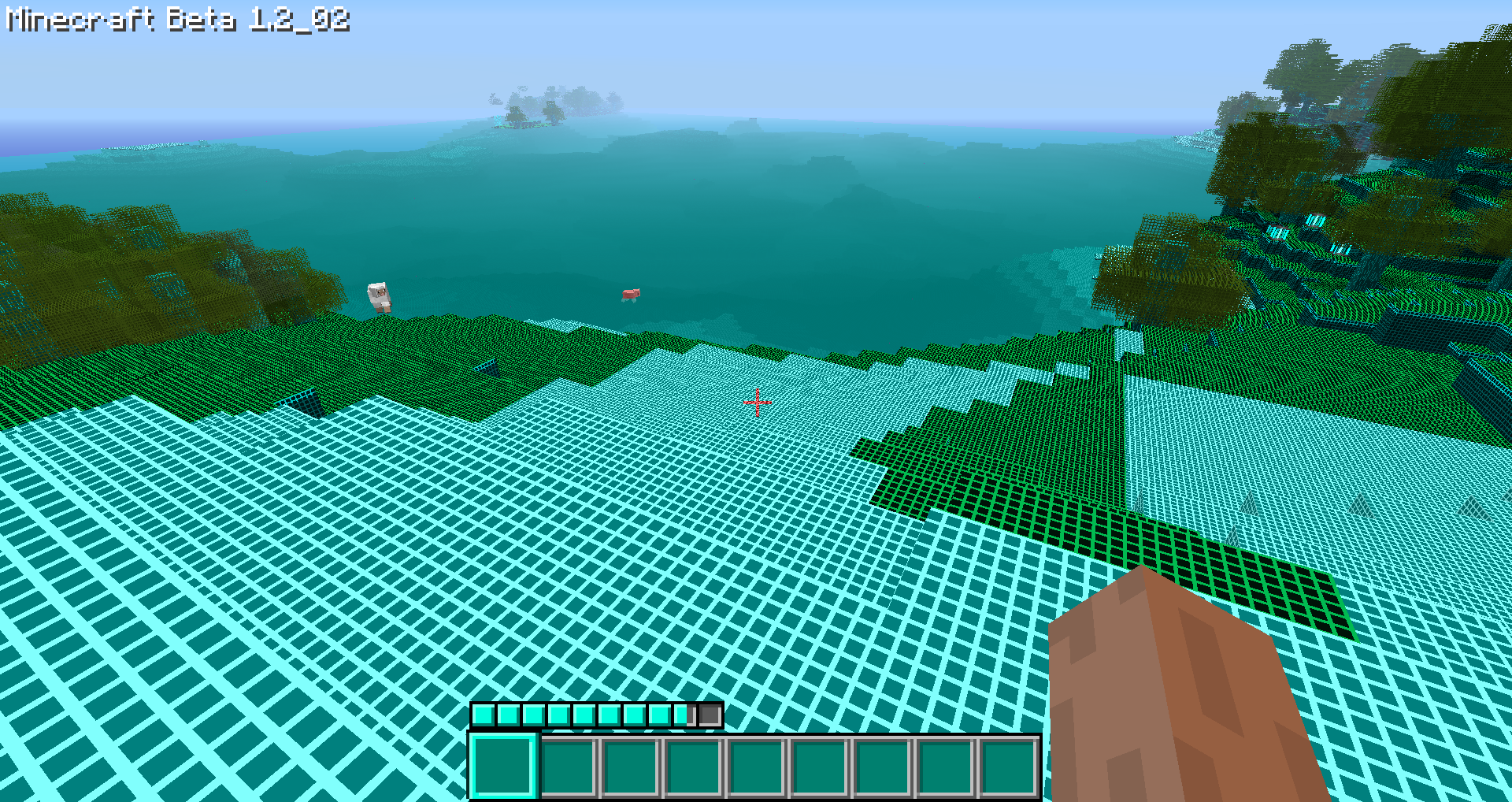 More of my work
do you like this? well asides from this I make graphics and music!
my music and graphics are
here