BramGaunt
Tree Puncher
Join Date:

11/8/2012

Posts:

25

Member Details
Hello there fellow Miner and/or Crafter!
Do you often times sit in your fancy but drafty stone castle shivering from the cold that
can't be disspelled, not even by the hottest fire?
Or maybe it is your wooden serf hut that can't keep the cold outside?
(Or better "the wamth inside" as oxymorons are annoying)
Build your very own peasant timber frame house!
II. It's nice to look at
III. It shows those filthy serfs that you have bettered yourself!
You, my friend, are now a filthy peasant! Well done mate!

*
*If you were a lord to begin with, imagine how your fancy noble friends will envy you once
they see your trendy new peasant house!
But what exactly is it we are talking about you ask me? Well, have a look: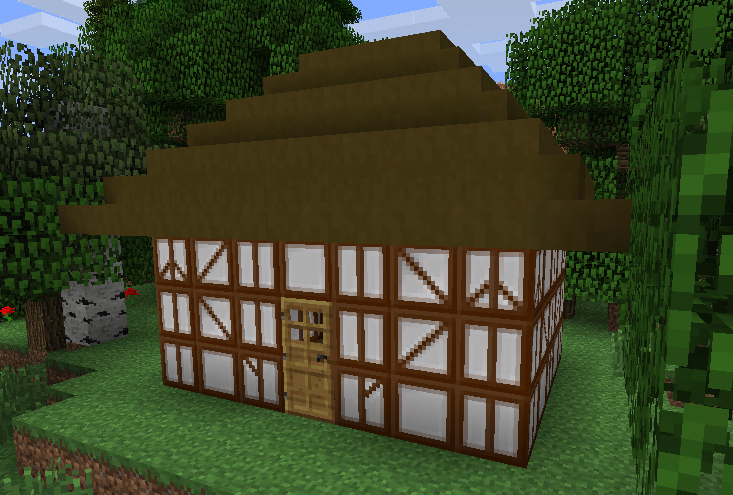 So get yourself your very own New Old Stuff!
New Old Stuff - I think Baldrick would have liked it,
but don't quote me on that one.
As an introduction to the mod I suggest having a look at the following mod showcase for NOS that
was uploaded very recently by LexLV
This and many more awesome videos can be found on his youtube-channel:
I.A.i. Carpenter's Hammer:
This Tool is used to rotate the timber frame blocks, at least those which can be rotated.
Rightclicking/Shift-rightclicking will trigger its effect.
These are the blocks that can be rotated:
This one's a pretty straight forward tool which you use, not very surprisingly,
to transform your average stone brick blocks into chiseled ones and so forth:
I.A.iii. Harvester's Scythe:
The Scythe is used to cut your Wheat in a 3*3 square(smaller areas are of course possible). Right-clicking will give you freshly cut culms whereas shift right-clicking will give you ordinary wheat. The special thing about the scythe is that it will never grant you any seeds but it will also not destroy the plant. To get to know what culms are used for have a look at the thatch blocks.
I.B.i. Timber Frame Blocks:
These Blocks are of course the main feature of NOS, they can be crafted from any wood that has been registered in the forge ore library and clay, These are the updated and current recipes:
Thatch blocks are meant to serve as roofing, you should know that due to them being dried grasses fire spreads incredibly fast amongst them.
These blocks are crafted either from dry straw or sugar cane (as a reed substitute).
Dried straw can be obtained by cutting your wheat using a scythe, then combining 9 bundles of freshly cut culms to form 3 bales of fresh straw. These have to be laid out in the sun (without touching any other block) in order to dry. Once they have done so they can be broken either barehanded or using a scythe in order to receive dried straw.
(See the above spoiler for a picture of the blocks themselves.)
I.B.i. Timber Frame Blocks: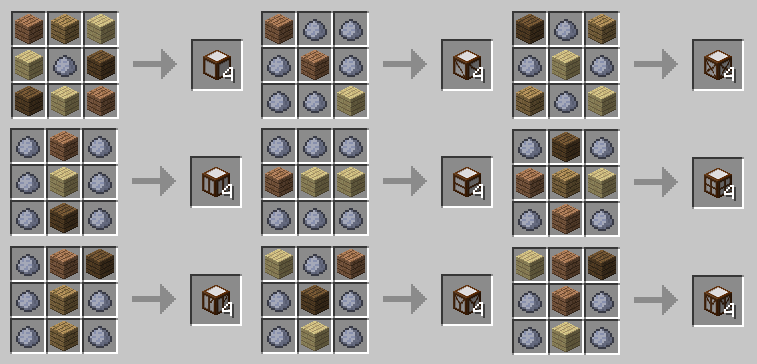 As I myself use the awesome Sphax PureBDCraft Texture Pack since I like a certain coherence in minecrafts appearence i created somewhat 'sphaxy' 64x textures for NOS. If you like them you can get them right here: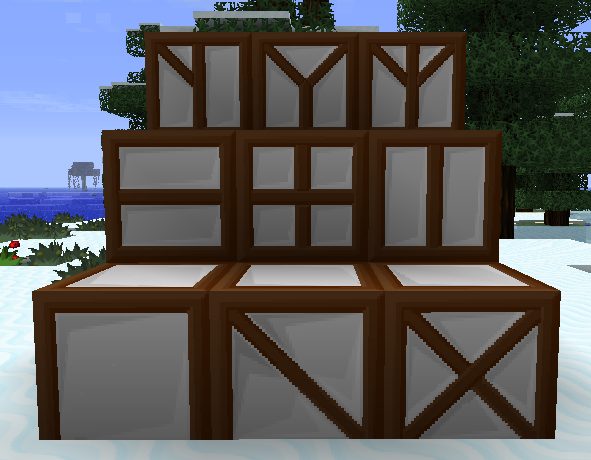 VII. Downloading, installing and related stuff:
You can download the mod using the following link:
You will need to have a more or less up to date version of forge installed
as this mod was created with it. If you do, just drop it into your mods folder.
I don't have a large group of betatesters to inform me about glitches or bugs so if you encounter something odd that is related to this mod please inform me using this thread,
I will try to fix it asap. (As of now the tools might be a bit too powerful, feel free to give me your opinion on this)
By downloading you agree to my terms and conditions which aren't that complicated:
§I.You, the user, may download and use the mod in the intended way (as a minecraft mod)
for personal purposes only.
§II. You may not upload it anywhere else and you may not repost the link to the file.
This is the place where people can get the mod and nowhere else.
(Unless I decide to change that)
§III.
You may not decompile the mod to view it's code and as of now you may not use it in mod packs.
(Once I am happy with the state of the mod I will eventually make it open source)
§IV. If you break these simple to follow terms and conditions you will have to work in my acid mines
for as long as I deem right and I will be permitted to kick you in the butt as many times as I deem right.
§V. If §IV is not supported by your countries law and/or human rights you will still be a douche
and liabel for violating the user's license agreement that is articulated by these paragraphs.
§VI. You accept the fact that even though some of the above paragraphs may not be in proper
laywer-english they are still valid in the way I intended, especially so since english isn't my first language.