pooooopyouuuuu
Curse Premium
Out of the Water
Join Date:

5/3/2012

Posts:

8

Member Details
Better Than Diamonds Mod
created by pooooopyouuuu
(My first mod!!!!!!)
(Now Updated to 1.4.7!!)
Thank You So Much To Delocuro
DOWNLOAD:
http://adf.ly/HORc7
(requires ModLoader!!!!!)
Items List:
1. Saphican Shard
2. Saphican Gem
3. Condensed Saphican Gem (Block)
4. Saphican Dust
5. Saphican Ingot
6. Saphican Block
7. Thick Stick
8. Saphican Pickaxe
9. Saphican Spade
10. Saphican Axe
11. Saphican Sword
12. Master Tool
13. Saphican Helmet
14. Sahpican Chestplate
15. Saphican Leggings
16. Saphican Boots
17. Saphican Block
18. Fish Soup
19. Raw LambChop
20. Cooked LambChop
21. Small Bones
22. Saphican Encrusted Bow
23. Green Thumb Gloves
24. Special Boots
25. More To Come Soon!
How to do it :
Video

(This is the new one! Watch it!)
Saphican Ingot:
First off, you want to make a saphican ingot. You can do this by getting some coal, iron, gold, and diamonds. Then, you place them like in this picture below:
Next, you put 4 saphican shards in a crafting grid and you get 1 gem.
You then need to put 2 gems together to make a condensed saphican gem. (block)
Next, you place this block and break it with any pickaxe and you will recieve 1 saphican dust.
You then cook this dust in the furnace to recieve 1 saphican ingot!
Lastly, you use this ingot as you would with any other ingot to make tools, armor, etc.
To Make some tools you might need to make a thick stick, which is made like this:
These sticks are needed to make the tools.
Next, you can make a saphican block out of nine ingots. It works exactly the same way as other ingots' blocks.
Newly added, you can now make a Saphican Encrusted Bow! Which is made like this: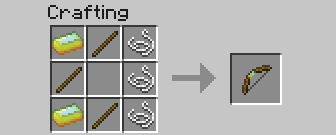 If you press "R" in game, you can switch the bow into Rapid Fire Mode, and It is like the old Minecraft bow.
Along with all of the other Armor Items, you can now make Special Boots. Made like this:
While wearing these boots, you will not take fall damage, and you can sprint VERY fast!
The next newly added Item is the Green Thumb Gloves. Made like this:
These gloves are exactly like bonemeal, BUT, they don't run out! Unlimited Bonemeal!
Master Tool:
The master tool is exactly as it sounds. It does not break, it breaks every block nearly instantly, and kills every mob in one hit. (Ender dragon is an exception) You need to have made each tool (unused) and 1 thick stick to make the master tool. Then place them like in the picture below.
More Mod Info:
To make the Master Tool, it takes 32 diamonds, 32 gold, 113 iron, 85 coal.
I believe it is truly worth it!
Mob Drops:
I only added foods just because i felt they should be added to the vanilla game. There is fish soup, which is made by putting a cooked fish on top of a bowl.
Next, there are raw lamb chops and cooked lamp chops. Sheep will drop raw lamb chops upon death. You then just cook the lamb chop normally to make a cooked one.
Now, this isnt really a food, but once again, i found that sheeps are useless, even with lamp chops, so i added small bones, they drop small bones which u can craft into a regular bone, i also made this because i felt that bones are not easy enough to come by. Craft them like this:
ChangeLog:
January 25th, 2013: Updated to 1.4.7, add gloves, add bow, add special boots
December 30, 2012: Updated to 1.4.6(No Bow)
October 7, 2012: Updated to 1.3.2 (No Bow)
June 19th, 2012: Got Sprites Re-Done, Photos updated
May 11th, 2012: Added Saphican Bow and Small Bones
May 4th, 2012: Redo of textures
May 4th, 2012: Mod Release