Thewerty1124
Curse Premium

404: Member Not Found
Join Date:

8/10/2011

Posts:

806

Minecraft:

TheWerty1124

Member Details
NEWS(updated 5/10/14)
1.7.2 completion: 0%
MAM 2 Images
The first of many spoilers
Modeled lanterns sooo much better than the old one!!!!!(model may change)
Better castle building blocks!
5/10/14
- Now that forge has been updated to 1.7.2 for awhile I WILL be updating this mod this time.
9/30
- WARNING screenshots and crafting recipes are extremly outdated new ones will be taken upon the release of MAM1.4 I would suggest using recipe book or similar mod until screenshots are updated
REQUIRES
Modloader
-
http://www.minecraft...ything-updated
DOWNLOADS -
Windows
current modloader version V1.4.7 for mc 1.4.7-
http://www.mediafire...aynq853nall2e2k
Requires - modloader.
FAQ
CONFLICTIONS
CHANGELOG
V1.4.2- UPDATED to mc 1.4.7V1.4.1- UPDATED to mc 1.4.6- removed prayer blockV1.4- CHANGED no longer edits the base class EnumToolMaterial-CHANGED particles from the lantern- CHANGED lantern brightness - made brighter- FIXED All charms but earth-FIXED castle glass-ADDED 2 new achievements- ADDED all blocks to creative mode inventory- ADDED all items to creative mode inventory- FIXED records being replaced by weapons for some people- FIXED castle wall not rotating- CHANGED castle wall rotation - now changes based on where your looking instead of right clicking- REMOVED config file for now- CHANGED main screen logo - fixed the texture- CHANGED items now spawn in the tents chest- ADDED a custom item rarity API made by TheWerty1124(me)-CHANGED bandit camps now have random loot in chestsV1.3- ADD downloadable installer- CHANGED Multiple texture changes- FIXED Knight spawns- FIXED knight helmet recipe- ADD Knights can now follow you to battle- ADD the forgotten copper tools- ADD long sticks- ADD New block castle wall added with custom model- FIXED Bandit camps generation- FIXED block ids reverting to original if changed- FIXED Spaces added to names of items- CHANGED spear crafting recipe- ADD more achievements- FIXED bandit camp rarity- ADD fire charm as furnace fuel- FIXED the double frosted glass achievement- FIXED not being able to get any of the achievements- CHANGED knight armor strength-CHANGED Hay rarity-CHANGED bandit camp spawn requirementsV1.2.4- Updated for minecraft 1.2.5V1.2.3a- fixed missing tent2 imageV1.2.3- fixed bugs caused by 1.2.4V1.2.2- updated for minecraft 1.2.4V1.2.1- updated for minecraft 1.2.3V1.2 - updated to minecraft 1.1couple bug fixes[b]uncompleted[/b] bandit hideoutV1.1.1b - Fixed a stupid mistakeV1.1.1 - Added uses for the gemsArmor is backBug FixesV1.1.0 - Added gem oreAdded ruby,emerald, and amethysttook out knights armor for nowBug FixesV1.0.5 - Texture changesBug FixesAdded copper Cools and WeaponsV1.0.4 - Boosted iron ore spawn rateFixed drawbridge name castle glasstook out Debugging recipes accidentally left inmade lanterns dimmerV1.0.3 - fixed the unnamed item now has name clothV1.0.2 - Bug fixesLantern Texture ChangeCopperOre addedCopperBar addedv1.0.1 - Bug fixesv1 - initial release
SCREENSHOTS
BUGS
Please report any bugs
Other mods by me
CREDITS

Thewerty1124(me)-coding/few textures
Dollaz-textures
GreenSnow-textures
matthew22389-textures
Epiclinkfan101 - textures

If You Support This Mod Use This.
[url=http://www.minecraftforum.net/topic/743550-181middleagesmodwip/][IMG]http://i1215.photobucket.com/albums/cc501/werty1124/Werty1124Sig.png[/IMG][/url]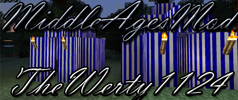 COPYRIGHT
TERMS AND CONDITIONS0. USED TERMSMOD - modification, plugin, a piece of software that interfaces with the Minecraft client to extend, add, change or remove original capabilities.MOJANG - Mojang ABOWNER - , Original author(s) of the MOD. Under the copyright terms accepted when purchasing Minecraft (
http://www.minecraft.net/copyright.jsp
) the OWNER has full rights over their MOD despite use of MOJANG code.USER - End user of the mod, person installing the mod.1. LIABILITYTHIS MOD IS PROVIDED 'AS IS' WITH NO WARRANTIES, IMPLIED OR OTHERWISE. THE OWNER OF THIS MOD TAKES NO RESPONSIBILITY FOR ANY DAMAGES INCURRED FROM THE USE OF THIS MOD. THIS MOD ALTERS FUNDAMENTAL PARTS OF THE MINECRAFT GAME, PARTS OF MINECRAFT MAY NOT WORK WITH THIS MOD INSTALLED. ALL DAMAGES CAUSED FROM THE USE OR MISUSE OF THIS MOD FALL ON THE USER.2. USEUse of this MOD to be installed, manually or automatically, is given to the USER without restriction.3. REDISTRIBUTIONThis MOD may only be distributed where uploaded, mirrored, or otherwise linked to by the OWNER solely. All mirrors of this mod must have advance written permission from the OWNER. ANY attempts to make money off of this MOD (selling, selling modified versions, adfly, sharecash, etc.) are STRICTLY FORBIDDEN, and the OWNER may claim damages or take other action to rectify the situation.4. DERIVATIVE WORKS/MODIFICATIONThis mod is provided freely and may be decompiled and modified for private use, either with a decompiler or a bytecode editor. Public distribution of modified versions of this MOD require advance written permission of the OWNER and may be subject to certain terms.
[represent]