SJFW
Iron Miner
Location:

UK

Join Date:

10/2/2011

Posts:

274

Minecraft:

SJFW

Xbox:

SJFW

Member Details
This mod adds simple panda bears and giant pandas to Minecraft, along with bamboo, bamboo soup, blow pipes, darts, spears and panda meat.
Compatible with Mo' Creatures!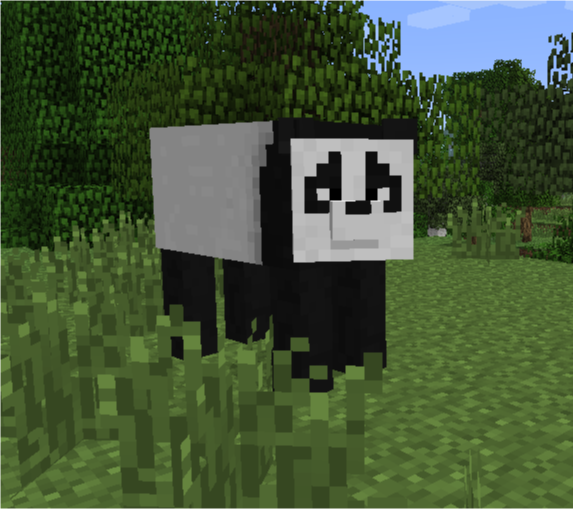 Features
-Pandas - Pandas are passive, and will not attack you. They spawn in forests and will drop bamboo and panda meat. They have 8 hearts.
-Giant Pandas - Giant pandas like their distance, and will attack you if you come within 7 blocks of them. They spawn in forests and drop bamboo and panda meat. They have 10 hearts, and deal 2 hearts per hit.
-Bamboo - Dropped by pandas, used to craft blowpipes, darts, spears and bamboo soup.
-Bamboo soup - Used to eat, heals 4 hearts. Craft by putting bamboo on top of a bowl.
-Blowpipes - Used to shoot darts. Craft with three bamboo in a vertical line.
-Darts - Shot out of blowpipes. Craft with bamboo above a feather, and flint above the bamboo.
-Panda meat - Used to eat, heals 3 hearts.
-Cooked panda meat - Used to eat, heals 5 hearts.
-Spears - Used to throw. Craft with flint on top of two bamboo.
-Panda spawn egg
-Giant panda spawn egg
Download
https://adcraft.co/aqe2pv
This mod requires ModLoader and AudioMod
Before downloading, hit the green plus in the bottom right of the post, it makes me smile :smile.gif:
How to install The Panda Mod
1. Download the Endangered Mobs folder
2. Copy the CONTENTS of the 'classes' folder into /.minecraft /bin /minecraft.jar
3. Delete META-INF inside /.minecraft /bin /minecraft.jar
3. Copy the FOLDER 'sound' into /.minecraft /resources /mod

Change log

-v3.0 Changed model of panda and giant panda, added panda sounds, added panda and giant panda spawn egg, changed texture of panda and giant panda
-v2.2.2 Re-added spears, increased spawn rate of pandas and giant pandas
-v2.2.1 Updated to Minecraft 1.1
-v2.2.0 Added giant pandas, which are bigger than normal pandas, have a distinct black stripe on their back, and become aggressive if your within 7 blocks of them
-v2.1.0 Added darts, organised codes.
-v2.0 Updated to Minecraft 1.0. Removed spears, added panda meat and cooked panda meat. Added panda breeding and baby pandas (they have HUGE heads :L). Slightly altered some textures.
-v1.2.3 Increased panda spawn rate, made spears throwable (they're currently white blocks when in the air), took the animation out of blow pipes but kept the charge so that they're not op, spears stackable up to 16, you now get 2 spears when you craft them
-v1.2.2 Pandas now move freely, and flee when you hit them, added spears (currently useless), slightly changed texture of bamboo and blow pipe
-v1.2.1 Fixed bamboo soup not healing you, now heals 5 hunger bars
-v1.2 Changed the size, shape and texture of pandas (temp), changed name of pea shooter to blow pipe and added the ability to shoot arrows out of a blow pipe
-v1.1.3 Changed bamboo texture, added pea shooters (currently useless)
-v1.1.2 Made bamboo soup craftable
-v1.1.1 Made pandas drop bamboo(0-3)
-v1.1 Added bamboo and bamboo soup (both currently only obtainable by spawning, pandas drop reeds(temp until they drop bamboo)

Special Thanks

Uniquemagikv3

Dietwawa

MrGregsWorld

Disclaimer
I do not guarantee that this mod will work. However, if it doesn't work, you are probably doing something wrong during installation. By installing this mod, you agree that you are at your own risk. Back up your '.minecraft' before installing.

If you have any bug reports, problems with installing, questions or suggestions feel free to leave a reply.
Last edited by
SJFW
: Feb 5, 2012