ADH198
Tree Puncher
Join Date:

7/30/2011

Posts:

25

Member Details
Mo' Weapons
Have you ever thought that just a sword and bow wasn't enough weapons for minecraft well now you can add some more in!
New items
Longsword
Daggers
Knifes
Battleaxes
Maces

Crafting recipes
Longswords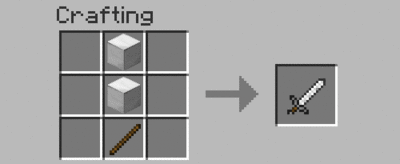 Daggers
Knifes
Battleaxes
Maceheads
Maces
Longswords = 5 hearts
Daggers = 2 hearts
Knifes = 2.5 hearts
Battleaxes = 3.5 hearts
Maces = 4 hearts
Installation
Step 1: Find your .minecraft file
Step 2: Make a backup of your minecraft folder
Step 3: Open your minecraft.jar file
Step 4: Delete the META-INF folder
Step 5: Insert all .class files (from the Mo' Weapons folder) into your minecraft.jar
Step 6: Insert the items.png (from the Mo' Weapons folder) into the gui folder and replace the original
Step 7: Play
Download links
Change log
V1.0 - Initial release
V1.1 - Added in the longswords
V1.2 - Tried to fix a bug causing the weapons not to do the specified damage and to be indestructible

To do:
Fix bug causing indestructible weapons that do same damage as fist
Add new items
Banner
Support the mod!
Legal stuff
This mod is ,excluding the images, are all my own work and aren't allowed to be distributed by anyone without prior permission from my self. You may modify any of my mod but may not distribute it. You may use only use, except for modifying, for it's actual purpose (installing and playing it). No one else other than the author (myself) may give the download link. All artwork in this mod is copyright of Euan Gubbins (not including the Longswords which were done by myself). The creators of this mod take no responsibility in anyway if it messes up your minecraft files or folders in any way. As well no one other than myself is allowed to make profit from the content on this topic.

Addition to this copyright:
You are allowed to use this mod to make let's plays or any other video and to publish them to YouTube.

©Alex Hawtin 2011
Please leave any errors or bugs messages with a description of the problem.
Thank you to Euan Gubbins for doing most of the artwork.
Last edited by
ADH198
: Aug 1, 2011