SlyFoxPuppy

Zombie Killer
Join Date:

7/7/2011

Posts:

201

Member Details
[size="7"]Trio Gems 1.7[/size]
This is my mod which adds the gems emerald, sapphire, ruby and a mashup of the three, trio to your minecraft world.
It also adds aquamarine, danburite, garnet and another threesome trilliant to your minecraft world.
Ruby, Sapphire and Emerald all have the same generation with 2 per chunk at layers 32 and below, they form in groups of 6 maximum.
Aquamarine, Danburite and Garnet will generate at layers 10 and below, in a group of 4 maximum. it also only generates one groups per chunk.
With these gems you can make tools, weapons and armor.
Each gem is different in its own way.
Emerald armor is the best, better than diamond
Ruby tools and weapons are the fastest for mining and deal the most damage.
Sapphire tools and weapons have the greatest duribilty, nearly double diamond.
Trio combines all of the best attributes from each material.
Aquamarine is above the rest with the armor giving better protection than Trio as well as the ability to breathe in water. The tools are less durable than Trio and also not as good as trio in every way.
Garnet has better mining speed than Trio but its armor is lacking and is the same as emerald. The main interest of this gem though is its armor because it makes you immune to all damange from fire and lava.
Danburite has very minimal protection when it comes to armor and is the same as diamond in proctection. But this gem really is worth making armor out of as it gives no fall damage and 3 times jump height it is really something to strive for.
Trilliant is a brilliant material as it is better than Trio in every aspect and its armor gives all the abilities of aquamarine, garnet and danburite as well as excellent protection making it something special.
You also can craft storage blocks from all the gems the same way you can craft them for the default minecraft materials.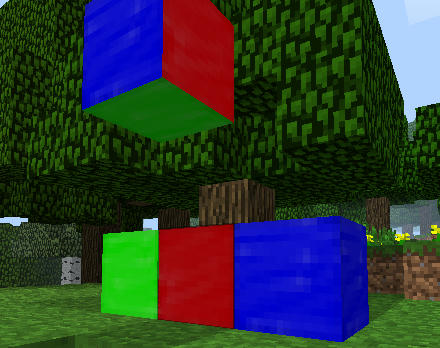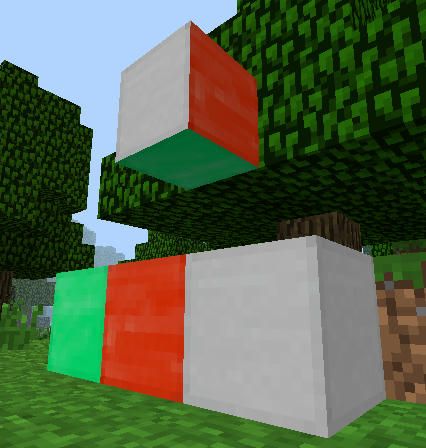 Crafting Recipes: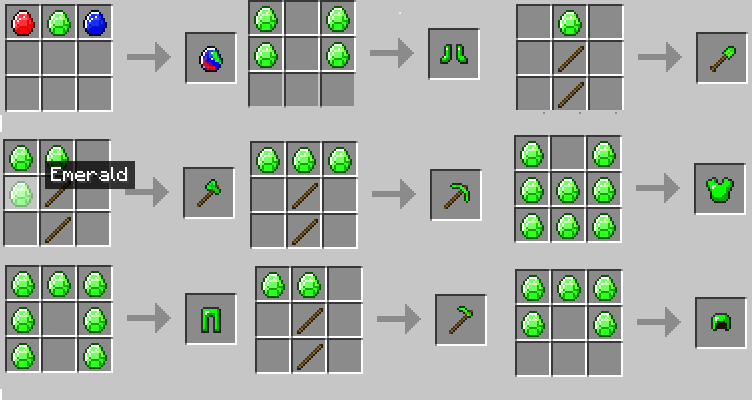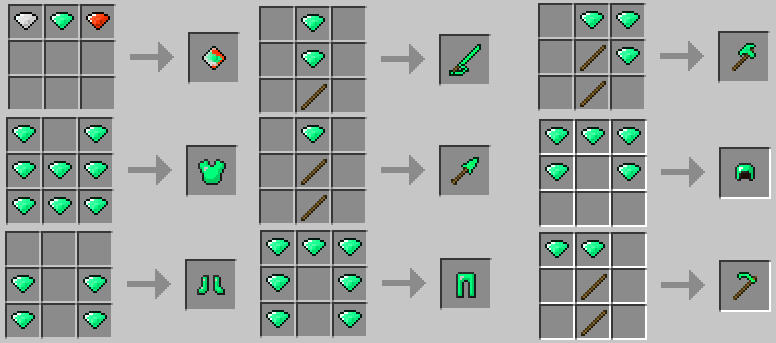 These crafting recipes work for all the gems except the first one which is the crafting recipe for trio.
Gems in game: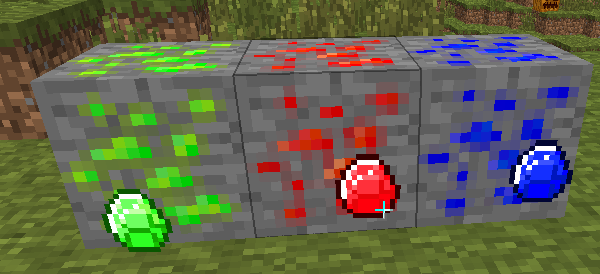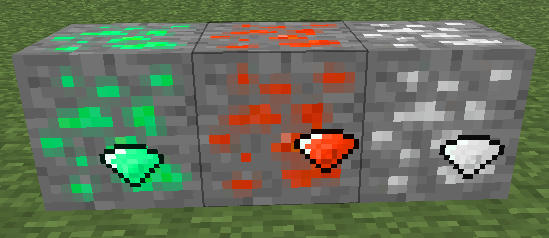 [size="5"]IDs Used[/size]
[size="2"]Block IDs used:[/size]
EmeraldOreBlock:97
RubyOreBlock:98
SapphireOreBlock:99
AquamarineOreBlock:100
GarnetOreBlock:101
DanburiteOreBlock:102
EmeraldBlock:150
RubyBlock:151
SapphireBlock:152
AquamarineBlock:153
GarnetBlock:154
DanburiteBlock:155
TrioBlock:157
TrilliantBlock:156
[size="2"]Item IDs used:[/size]
EmeraldTools:2101-2105 Armor:3000-3003 Gem:2100
RubyTools:2111-2115 Armor:3010-3013 Gem:2110
SapphireTools:2121-2125 Armor:3020-3023 Gem:2120
TrioTools:2131-2135 Armor:3030-3033 Gem:2130
AquamarineTools:2141-2145 Armor:3040-3043 Gem:2140
GarnetTools:2151-2155 Armor:3050-3053 Gem:2150
DanburiteTools:2161-2165 Armor:3060-3063 Gem:2160
TrilliantTools:2171-2175 Armor:3070-3073 Gem:2170
If you want to change any of these IDs there is a config file in your .minecraft folder
[size="4"]
PatchNotes:
[/size]
1.7:Addded multiplayer compatiblity. Now you need ModLoaderMp for the mod to work.
[size="5"]
Installation:[/size]
[size="4"]Server Installation[/size]
Thanks to SCMowns for making these videos it helps a lot.
[size="3"]
If you want to support this mod with this banner:/size]

[/code]
Put this code in your signiture:
[code][url=http://www.minecraftforum.net/topic/441767-173trio-gems17/][img]http://gickr.com/results4/anim_d5da0c92-0be5-9be4-5166-fdc878b61339.gif[/img][/url][/code]
or this banner

Put this code in your sig:[code][url=http://www.minecraftforum.net/topic/441767-173trio-gems15/] [img]http://i1190.photobucket.com/albums/z444/glasstheif/BannerforTrioGems.png[/img][/url][/code]
[size="2"]
Thanks so much Crukan for making both of these banner for me.[/size]
[size="6"]Downloads:[/size]
[size="5"]SSP[/size]
This mod requires
Risugami's ModLoader
And it requires
ModloaderMp
It also requires
ScotTools
Download for Trio Gems1.7[1.7.3]
http://www.mediafire.com/?o2o24vzs2xk192s
[size="5"] SMP[/size]
This mod is SMP compatible now so if you want t run it on your server you will need:
ModLoaderMp Server
ScotToolsMp
for the server
TrioGems1.7
for your server