ALP_Squid
Coal Miner
Join Date:

10/31/2010

Posts:

118

Minecraft:

ALP_Squid

Member Details
Follow the CrystalCraft development blog for previews of updates, news on CrystalCraft and progress before anywhere else!
Dev blog:
http://crystalcraftdev.tumblr.com/
Contents
Features
Latest Features
Crafting
Compatibility
Installation and Download
Troubleshooting
Planned Features
Show Case
Support the mod
Special Thanks
Previous Versions
Changelog
Modding Help
_________________
Features
[/anchor]
General
This mod adds crystal to the world of Minecraft, giving the ability to mine crystal ore for crystals. These can be crafted into weapons and tools, as well as displayed for aesthetic purposes to make that crystal grotto you've always dreamed of adding to your home.
Crystal Ore
Crystal Ore generates randomly in the world, generally 30 layers above bedrock in veins of around 4 blocks and can only be mined with an iron or better pickaxe. It also gives off a soft glow. Once mined, ore will drop crystal which can used for all manner of things.
Crystal
Crystal can be crafted to make the usual tools and also the Multi-tool, a cross between a pickaxe and a shovel to end those annoying moments of mining into dirt and gravel. Crystal can also be broken up into crystal shards which are very sharp and deadly when used as a weapon...
Crystal Armour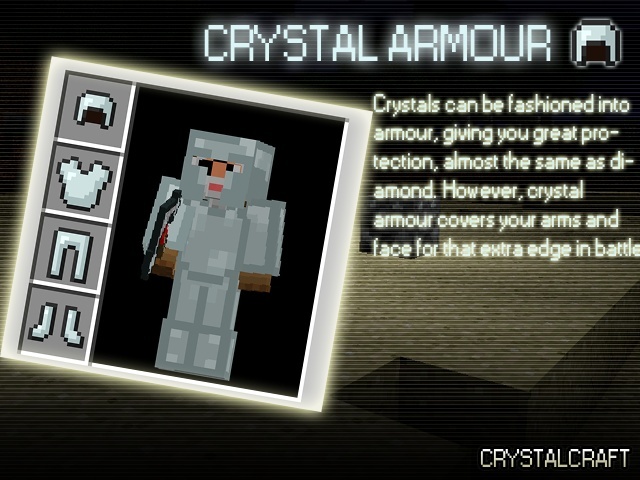 Crystal Displays
Crystal, when combined with a plank, will give you a crystal display. These displays can be placed on the ground wherever you please to add an edge to your house. Crystal displays also glow softly meanings there is no need for torches in your new crystal grotto, giving it soft lighting and a calm atmosphere.
Crystal Shards
Crystal shards are crafted from a single crystal. They are sharp shards of crystal and can be thrown at enemies, dealing twice as much damage as a normal arrow.
New in v1.1
Crystal Block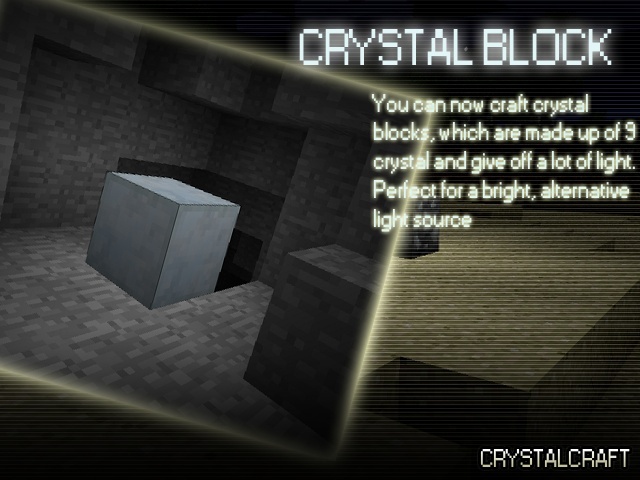 Crystal Crown
Health Potions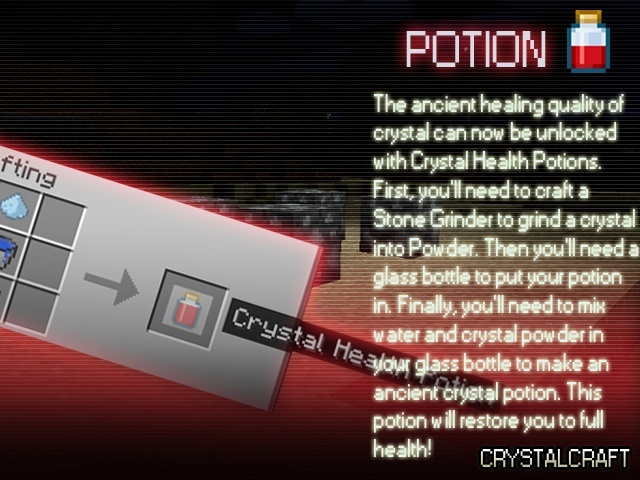 Other features in v1.1
v1.1 brings a .properties file. You can now change the IDs of blocks and items to increase compatibility. CrystalCraft.properties can be found in your .minecraft folder.
IMPORTANT
: Read the README included in the download for important information about the .properties file. IDs 97, 2002 and 2015 cannot be used! Do not try (information in README)
CrystalCraft no longer uses the sd.class so this should also increase compatibility (The one that is included in the download is the clean sd.class for anyone updating)
New in v1.2
Crystal Bow
You can now craft the Crystal Bow, which fires twice the distance of a normal bow, giving you pin point accuracy at closer ranges.
Crystal Arrows
To use the Crystal Bow, you're going to need some arrows. Not any ordinary arrows, beautifully crafted Crystal Arrows. These pack a punch and do triple the damage of a normal arrow.
Crystal Dagger
You can now craft Crystal Daggers. On their own, these daggers are fairly ordinary. They take 2-3 hits to kill a monster, so nothing to write home about. However, coat the tip in poison and you have quite the weapon!
Poisoned Crystal Dagger
These are the reason you made a Crystal Dagger. The deadly poison will kill a foe with one touch. However, this does come with a price as the poison corrodes the crystal over time, thus making the durability of the poisoned dagger over half of a normal Crystal Dagger.
Other features in v1.2
Crystal Blocks, when placed in the crafting grid, now give you 9 Crystal. So you can store your crystal nice and neatly.
New in v1.3
Crystal Glass
You can now smelt Crystals into Crystal Glass! This glass is super clear and gives off a soft glow, perfect for completing your Crystal House and giving a beautiful ambience within your home along with your displays and blocks!
Crystal Traps
Now that you have an amazing crystal house, you're going to want to protect all your precious items, right? Well, now you can with Crystal Traps! These spiky blocks pack a punch and will take off one heart of health on touched! Simply lays these around your house house in, or above ground for the ultimate protection!
Crystal Trident
Finally a new weapon, just what everyone loves to see! However, this isn't your average trident, this thing packs a punch as will one hit mods and can be upgraded for Water lovers and destructive pyromaniacs!
Sea Trident
One of the upgrade paths from the Crystal Trident, this weapon harnesses the power of the seas! Like the Crystal Trident, it is a powerful melee weapon but it can also spawn water, allowing for easy transport and the ultimate in water power! However powerful this may be, it will loose it's power and degrades by one block after around 15-20 uses.
Flaming Trident
Perhaps fire is your preferred choice of power? No problem, you can upgrade the Crystal Trident into a Flaming Trident that is a powerful weapon and can also spawn fire! However powerful this may be, it will loose it's power and degrades by one block after around 15-20 uses.
Sea Crown
With all this power now at the tip of your trident, you're going to need something to show for it, and some extra power, who doesn't like power? A Sea Crown is the perfect match for the Sea Trident and will show everyone that you are the King of the Sea! It also grants you the power to breath underwater, perfect!
Flaming Crown
Of course, the fiery destructor needs something as well right? Well, the Flaming Crown is just the thing to show that you are the King of the Fire! It also grants you fire immunity, so you can stroll through your fiery destruction without a care!
New in v1.4
Crystal Golems
A new creature as been spotted in the Minecraft world, Crystal Golems! These are creatures made of crystal that a passive unless attacked. They wander around and somewhat rare to see. Attacking one will anger it and any other golems around it so you've got a fight on your hands if you attack one! However, you won't go unrewarded for slaying one. Golems can drop up to 2 crystal but if you're unlucky, you'll get nothing. Spawns on all difficulties.
Young Crystal Golems
Naturally fully developed golems didn't just pop up, they were young once too. You're likely to find young crystal golems around the world, generally in small groups and these are non-hostile, innocent creatures so attacking one will bring you nothing, except a few crystal shards that is... There's a much better thing to do with these young golems! Try giving one some Crystal, they do like Crystal you know... Spawns on all difficulties.
Try giving one some crystal, you'll need at most 3 pieces...
Climbing Boots
Getting tired of jumping all the time to get around the world? Well, there's a solution. Climbing Boots! These boots allow you to stroll up single blocks with ease thanks to the Crystal Shards embedded in the bottom of the boot. Get some leather boots and some shards and you're good to go!
Crafting
[/anchor]
Tools
Tools are crafted like normal with the material being crystal
The Multi-tool
Blocks
Crystal Block
Armour
Armour is crafted like any other armour, the material being crystal
Crystal Crown
Misc

Crystal Displays
Coloured crystal displays are simply crystal displays with a dye of your choice. Supported dyes are highlighted
- Lapis Lazuli
- Lime Dye
- Rose Red
- Pink Dye
- Dandelion Yellow
- Purple Dye
- Orange Dye
Crystal Shards
Simply right click with a shard equipped to throw a sharp piece of crystal at your target
Stone Grinder
Crystal Powder
Glass Bottle
Crystal Health Potion
Crystal Bow
Crystal Arrow
This now gives 2 arrows instead of 1 (v1.41)
Crystal Dagger
Poison
Note: Works with any type of mushroom
Poisoned Crystal Dagger
Crystal Glass
Crystal Trap
Crystal Trident
Sea Trident
Flaming Trident
Sea Crown
Flaming Crown
Climbing Boots

Compatibility
[/anchor]
This mod uses ModLoader, but does however, edit the
agj
.class,
as
.class,
ll
.class,
tg
.class and
ca
.class. Please be aware this will cause incompatibility with mods that also edit these classes. (Most likely other ore mods)
If anyone knows ways of getting round editing these files then I'll be more than happy to change this and increase compatibility.
Fixed ID's are 130, 2036, 2042, 2050, 2051 and 2052, please be aware of this. If this causes lots of problems, I will change them to something other mods will be unlikely to use.
Do you use Ellian's Material Detector? FInd out how to locate Crystal Ore! Thanks to Notorious for finding this out.
(Oudated)
Quote from

If anyone uses Ellian's Material Detector:

viewtopic.php?f=1032&t=209645

Add "Crystal=97" to EllianDetector.settings and "Block:110:b94ae8" to materialColours.txt (both in .minecraft folder)

and the the crystal ore will appear on your map kind of a light purple color.
Installation
[/anchor]
Note:
Please make sure you have read the compatibility section above before installing the mod
Prerequisites
ModLoader - get it
here
if you don't have it
AudioMod - get it from the above link
Download
IMPORTANT: IDs of some blocks and Items have changed due to the addition of new blocks and Items in Vanilla using CrystalCraft IDs, this may cause some CrystalCraft blocks you already have in game to be something different.
Download CrystalCraft
v1.43
for 1.1:
HERE
If you're having trouble with these links, so just the no-add links below
Alternative Option:
Download CrystalCraft Installer & Updater
v1.0
:
HERE
(Adf.ly link is currently broken for some reason)
The above link supports the creation of the mod, and takes a few seconds. However, if this bothers you, you can download directly from here:
Files (no-add)Installer & Updater (no-add)
Installer & Updater (Automatic) BETA
Note: If you don't trust me, you don't have to use the program! I created this over a couple of weeks to try and make the installation and updating of my mod much easier and automated, so please, no malware/trojan report spam, thanks :biggrin.gif:

This only works if your minecraft.jar is in it's default install location [AppData/Roaming/.minecraft] and only on Windows!
Disclaimer: This is in beta stage and I am not responsible for any loss of installed mods. However, I have tested thoroughly on my own .jar and it does make a backup first

1. Extract the archive to a folder of your choice
2. Run CrystalCraft Installer & Updater.exe
3. Follow onscreen prompts to install/update CrystalCraft
4. [Only if installing 1.43] Delete CrystalCraft.properties from your .minecraft folder (Avoid ID conflicts)
Manual Install
Navigate to \UserName\AppData\Roaming\.minecraft\bin and open 'minecraft.jar' with WinRAR

Installing without ModLoader and AudioMod (if you have it installed skip to step 3)

1. Download ModLoader and AudioMod from the link above and drag the files into your minecraft.jar
2. Delete the META-INF folder

3. Drag all the files and folders from the 'for .jar' folder (Except the README) into your minecraft.jar
4. Go to your resources folder (\.minecraft\resources) and drag the 'mod' folder from the 'for resources' folder into resources
5. Run minecraft and enjoy the mod!
Troubleshooting
[/anchor]
Having trouble installing the mod or Updater?
Post your problem, what you've done and an error report if you have one and I, or someone else will help you sort out your problem.
Planned Features
[/anchor]

Crystal Door - thanks Record_AJ

Crystal Ore Detector - thanks LavaBird

Crystal (like crystal displays) generate in caves - thanks RoastCabose

Crystal Torches - Work underwater
Suggest features that you want to see in the next version of CrystalCraft!
Show Case
[/anchor]
PureSalvation has created an up to date (v1.41) showcase which is excellent!
Glitch_Alpha has also down a showcase for the mod (v1.41)
Thescorpi0n has kindly featured CrystalCraft in his mod showcase series. Here's the video showing some of the features in CrystalCraft. Outdated now.
'Support'
[/anchor]
Like the mod?
Show your appreciation by supporting it in a number of ways

You can create new images and textures to be used

You can create new sounds to be used

You can make a banner for the mod

You can post suggestions and ideas to be implemented into the mod

You can post screenshots and videos to showcase the mod

You can donate so I have more time for coding and also a nice coffee

You can download using the adf.ly links
Show your support with these banners, created by LavaBird


Add this code to your signature:
Banner 1:
[url=http://www.minecraftforum.net/viewtopic.php?f=1032&t=327122][img]http://i1135.photobucket.com/albums/m639/Miss-Weavile/banner.png[/img][/url]
Banner 2:
[url=http://www.minecraftforum.net/viewtopic.php?f=1032&t=327122][img]http://i1135.photobucket.com/albums/m639/Miss-Weavile/banner5.png[/img][/url]
Special Thanks
Special Thanks to:
LavaBird - ideas, Banner, feature showcase images, Crystal Crown texture and sprite, Glass Bottle and Potion Sprite
Thescorpi0n - Video showcase
Record_AJ - ideas
RoastCabose- ideas
Caslomyr - Donation
The people on #risucraft for helpful advice
Also, thank you to everyone else for your support and ideas!
Previous Versions
CrystalCraft v1.42 for 1.8.1
CrystalCraft v1.41 for 1.7.3
CrystalCraft v1.3 for 1.6.6
CrystalCraft v1.2 for 1.6.6
CrystalCraft v1.2 for 1.5_01
CrystalCraft v1.1 for 1.5_01
CrystalCraft v1.0 for 1.5_01
Changelog
[/anchor]
23/2/2012 - CrystalCraft v1.43 released
     Updated 1.41 for 1.1
     Mobs now work!
25/09/2011 - CrystalCraft v1.42 released
     Updated 1.41 for 1.8.1
     Just Items due to bug with mobs
17/08/2011 - CrystalCraft v1.41 released
     Fixed the bugs from 1.40
     Fixed the general messiness of the 1.40 release
     Updated the CrystalShard Source code
27/7/2011 - CrystalCraft v1.40 released
     Crystal Golems
     Young Crystal Golems
     Climbing Boots
  Bug: Shards and Arrows don't fire correctly
     
6/7/2011 - CrystalCraft v1.3 updated for Minecaft 1.7.2

13/06/2011 - CrystalCraft v1.3 released
     Crystal Glass added
     Crystal Traps added
     Crystal Trident added
     Sea Trident added
     Flaming Trient added
     Sea Crown added
     Flaming Crown added

4/06/2011 - CrystalCraft v1.2 for 1.6.6 released

25/05/2011 - CrystalCraft v1.2 released
     Crystal Bow added
     Crystal Arrows added
     Crystal Dagger added
     Crystal Poisoned dagger added
     Poison added
     Crystal Blocks now give 9 crystal when put in crafting grid
07/05/2011 - CrystalCraft v1.1 released
     Crystal Crown added
     Crystal Block added
     Health Potion added
     .properties file added
     sd.class no longer being used
02/05/2011 - CrystalCraft v1 released
Modding Help
[/anchor]
Here you can find source code from CrystalCraft that people have requested. You can learn from these and implement them into your own mods
Crystal Shard source
HERE
no-add