BoonCraft
Iron Miner
Join Date:

9/29/2012

Posts:

263

Minecraft:

Zeepzop

Member Details

Farming Platform 4
farming platform 3 trailer:
Info:
Farming Platform 4 is the fourth installment in the Farming Platform map series for Minecraft 1.6.1. The basic objective is to farm, fight, mine and gamble your way to riches. The map includes a farm, a town, a mine, a prison and a casino. The currency is gold, you can obtain gold by selling your harvest, ores and mob drops. You can also choose to gamble your gold for more gold and rare items. You can find detailed information on these areas below. If you don't know what to do you can read the achievements.
Multiplayer notes:
The map can be played in multiplayer howerver i would suggest not to enter the casino or the arena with multiple people. The command block placement is not optimesed for multiplayer.
Rules:
1. You may only break and place blocks in the farm and the mining game.
2. You may not bridge yourself to other islands.
3. Must be played on easy or harder.
Areas:
Farm: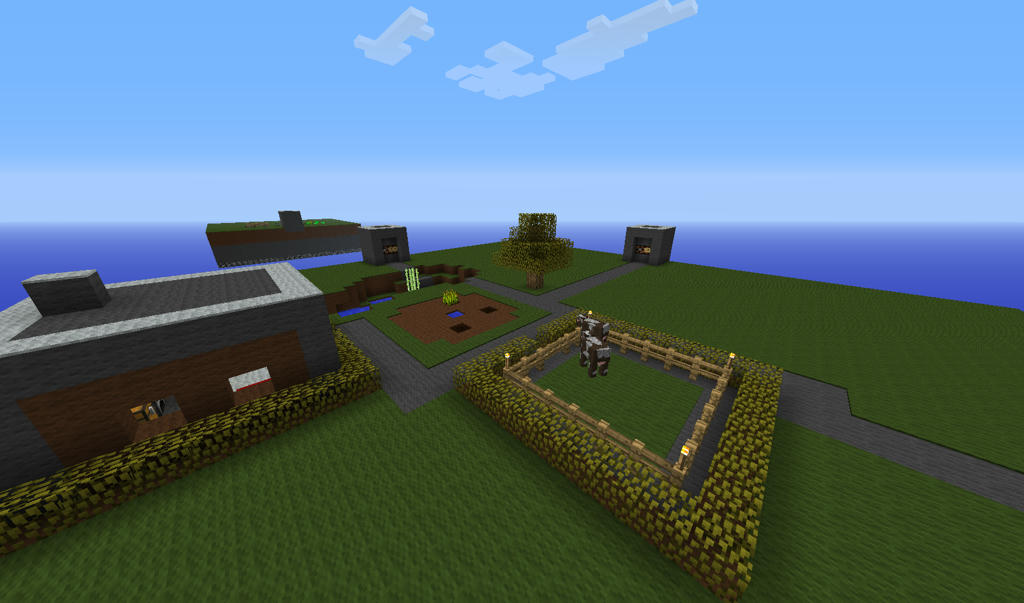 This is the area where you start and is the only area where you can build and break blocks.
All grass and stone has been replaced with wool and you are supposed to buy these items in the town.
You start with only one farm but you can buy 2 other platforms for a considerable amount of gold.
Town: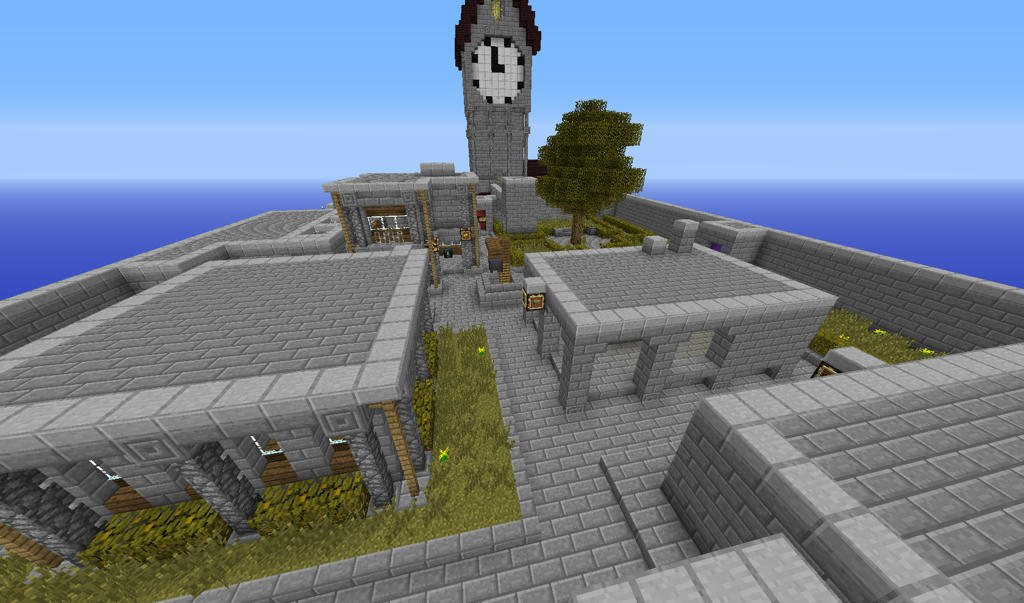 Here you can buy nearly all items in the game from custom made villagers using gold nuggets. You can obtain these gold nuggets by selling your harvest, ores and mob drops as well as trading in your levels.
Mining guild: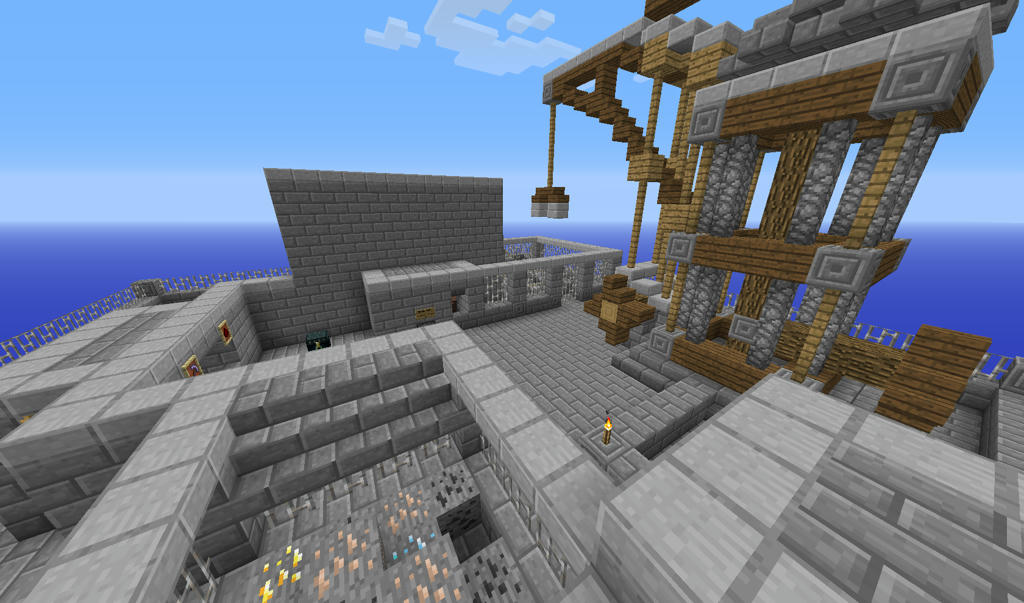 Here you can mine for a minute for a small amount of gold. When you're done mining you can sell your ores for gold or use them to create tools and improve your farm.
Casino: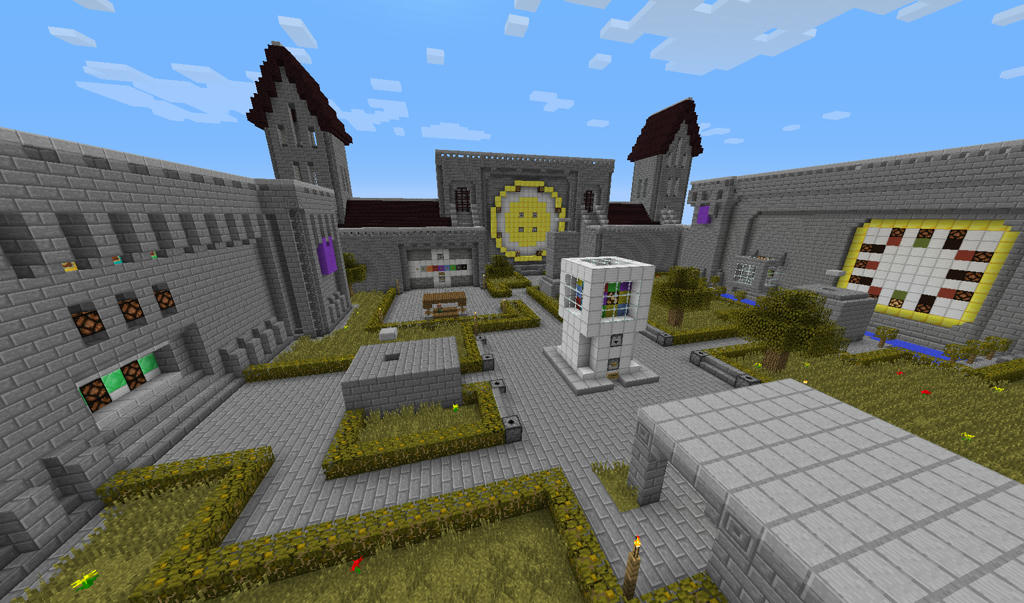 Here you can gamble your gold.
You can obtain more gambling coins or rare items.
It's a casino so you can have bad luck and get something you really don't need.
Prison: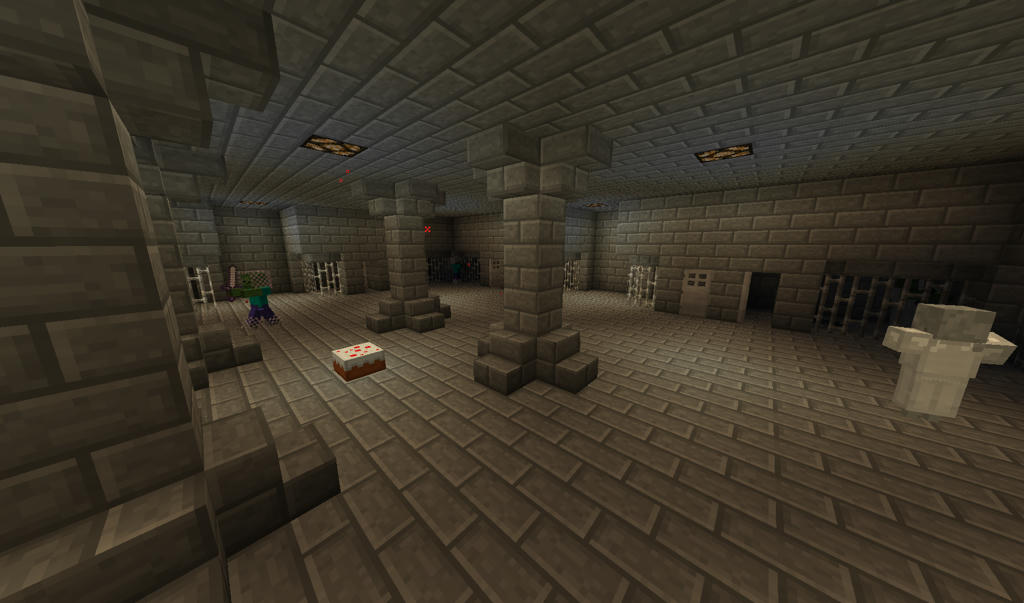 This area has a mob arena where you will have to fight a large amount of mobs.
But beware, it can be hard if you select a harder difficulty because you will lose 2 levels if you die.
Achievements:
Farm:
- Go fishing
- Make a simple tree farm
- Breed a cow
- Find the secret room
- Bake a cake or a pumpkin pie
- Create an automated farm with the crop of your choice
- Expand or rebuild your house and decorate it with a Jukebox, a painting and a redstone lamp
- Ride a horse
- Unlock the extra farms
- Build a beacon

Town:
- Exchange a level for gold
- Buy some seeds or plants
- Buy some dirt
- Sacrefice an old coin
- Try to rob the bank
- Buy an animal
- Buy a new farm
- Obtain a holy artifact
- Buy a beacon

Casino:
- Buy some coins
- Buy a drink
- Get emerald on the slot machine
- Play the wheel of fortune
- Win an enchanted book
- Buy at least 4 music discs
- Win an ancient coin
- Win an enchanted tool

Prison:
- Play the arena on easy
- Buy a piece of armor or a weapon
- Escape from prison
- Buy some prison food
- Find a secret chest
- Find the slaughterhouse
- Play the arena on hard without dying

Mining Guild:
- Play the mining game
- Mine some iron
- trade your cobblestone for other stone blocks
- Find the secret chest
- Mine some diamond
- Buy an enchanted tool or book
- Mine some gold

Future features:
I am working on a few extra feature for the map, but i can't promise they will actually make the map.
- Horse minigames
- Tamagotchi


Videos
Phedran:

Reviews:
Unajunga:
Overall: 9.35
Mining Guild: 8.5
Hehe, I was very happy to see that there was stone instead of sand, my mind is continuing to be blown by your creations. I also loved how you spiced the place up, having a cool-looking crane opposed to nothing in the previous version. There were also some places to explore around, I liked the ores behind the villagers, (I hope you don't mind but I silk-touched all of them.) I found that getting the actual ores is pretty difficult, I've only gotten about two lapis ores, one diamond ore, some iron ore, and some redstone ore. This makes making dyes like purple very hard for me, I was surprised to see that you couldn't buy any of the minerals. The mining guild was fun, but I think the ore-to-stone ratio could be a little more in favor of the ore.
Casino: 9.75/10
I loved the casino! The Gachapon and the Pick Your Prize were my favorite. I would spend about a stack at a time of coins when using this, I couldn't get enough. The Pick Your Prize was pretty cool, I use that a lot also. I loved that you had to have lucky coins to do the wheel of fortune, the prizes from there were very nice. The only reason I'm not giving 10/10 is because I liked it when you had the secret area open when you landed on the emerald block.
Farm: 9.5/10
The farm was very nice as usual. Although I didn't really have to do that much for the experience, since the Prison provided so much, I still spent a lot of time there. I didn't really use any of the other farms, even though I bought both of them. I set up a chicken, carrot, and potato farm, it was very fun.
Prison: 9/10
The prison was really fun! As usual, you add in that cloistered area you have to think about to reach, I really liked that part. I really liked the layout of the prison, it's improved a lot since the beta version. As for the battling, it was really enjoyable. The skeletons kind of annoyed me since they shoot almost twice as fast, but everything else is nice. I really liked the cake spawner, that helped me a lot. I often sell my things to those villagers, they're very helpful.
Town: 10/10
The town was really nice, the whole layout makes it much easier to find the shops. Breaking into the bank was very enjoyable, I finally found it after wondering whether to break the bars or not. The ancient coin shop was pretty helpful, I bought some enchantment tables from there. The town just keeps improving, wonderful job.
Sub-part: Sacrificial altar
Very nice, I think you should expand on this, this was the first thing I spent my money on.
Download:
[url="http://adf.ly/Qt1XR"]http://adf.ly/Qt1XR[/url]
Recourse pack:
The extra textures were made by my buddy [url="http://flovandijk.deviantart.com/"]Floris[/url],
Show him some love and check out his drawings, they're pretty amazing

Download
[url="http://adf.ly/Qt0iH"]http://adf.ly/Qt0iH[/url]
Old versions:
Farming Platform 3.2:
[url="http://www.minecraftforum.net/topic/1621396-farming-platform-32-147-18000-downloads/"]http://www.minecraft...8000-downloads/[/url]
Farming Platform 2.1:
[url="http://www.minecraft...arming-platform"]http://www.minecraft...arming-platform[/url]
Farming Platform 1.3:
[url="http://www.minecraft...ng-platform-v13"]http://www.minecraft...ng-platform-v13[/url]
If you find any bugs or if you have contructive criticism, please tell me and i'll edit it as soon as possible

╭━━╮╱╱╱╱╱╱╱╭╮╱╱╱╱╱╭━╮╱╱╱╱╭╮╭━╮╱╱╱╱╱╱╱╭╮╱╭╮
┃━┳╋━╮╭┳┳━━╋╋━┳┳━╮┃╋┣╮╭━╮┃╰┫━╋━┳┳┳━━╮┃┃╱┃┃
┃╭╯┃╋╰┫╭┫┃┃┃┃┃┃┃╋┃┃╭┫╰┫╋╰┫╭┫╭┫╋┃╭┫┃┃┃┃╰━╯┃
╰╯╱╰━━┻╯╰┻┻┻┻┻━╋╮┃╰╯╰━┻━━┻━┻╯╰━┻╯╰┻┻╯╰━━╮┃
╱╱╱╱╱╱╱╱╱╱╱╱╱╱╱╰━╯╱╱╱╱╱╱╱╱╱╱╱╱╱╱╱╱╱╱╱╱╱╱┃┃
[represent]