BoonCraft
Iron Miner
Join Date:

9/29/2012

Posts:

263

Minecraft:

Zeepzop

Member Details

Farming Platform 3.2

Partially broken in 1.5!!
Info:
Farming platform is a map where all dirt and stone has been replaced by wool, these items can be obtained through custom villager shops found in the town. Currency can be bought for levels you´ve obtained through farming, fishing, animal breeding and killing monsters in the castle. You can also spend your levels in the casino or on mining. The map consists of 6 platforms, the farm, the town, the casino, the mining guild, the castle and the extra farm.
Multiplayer notes:
The map can be played in multiplayer howerver it can be a bit glitchy in the casino if you're laggy. And the command block placement can be strange too. I would suggest only entering the casino with one person.
Rules:
1. You may only break and place blocks on the starting platform, the mining game and the extra farm platform.
2. You may not bridge yourself to other islands.
3. Must be played on easy or harder.

Areas:
Farm:
This is the area where you start, here you may break and place blocks to make a farm. There's another farming platform which can be seen from the starting platform if you have the render distance on far. You may not build a bridge to the other platform because you'll have to fly there using the helicopter on the casino's roof.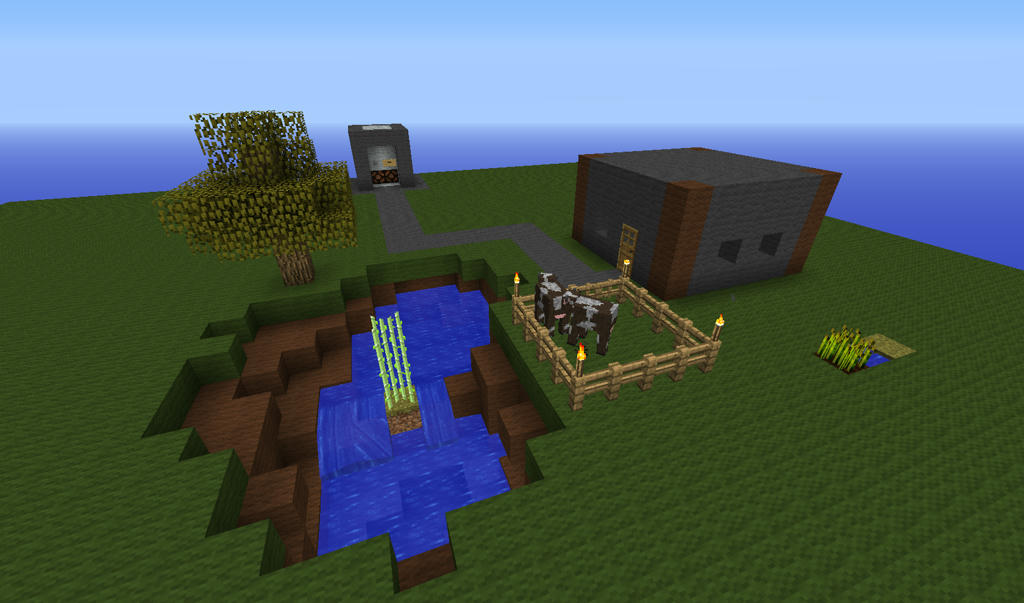 Town:
Here you can buy and sell nearly all items in the game. There's a farming shop, a digging shop, a tree shop, an animal shop, an armor shop, a dye shop and a miscellaneous shop. There's also a bank where you can trade levels for gold. There's a small platform connected with a bridge, but you'll have to find a way to get there.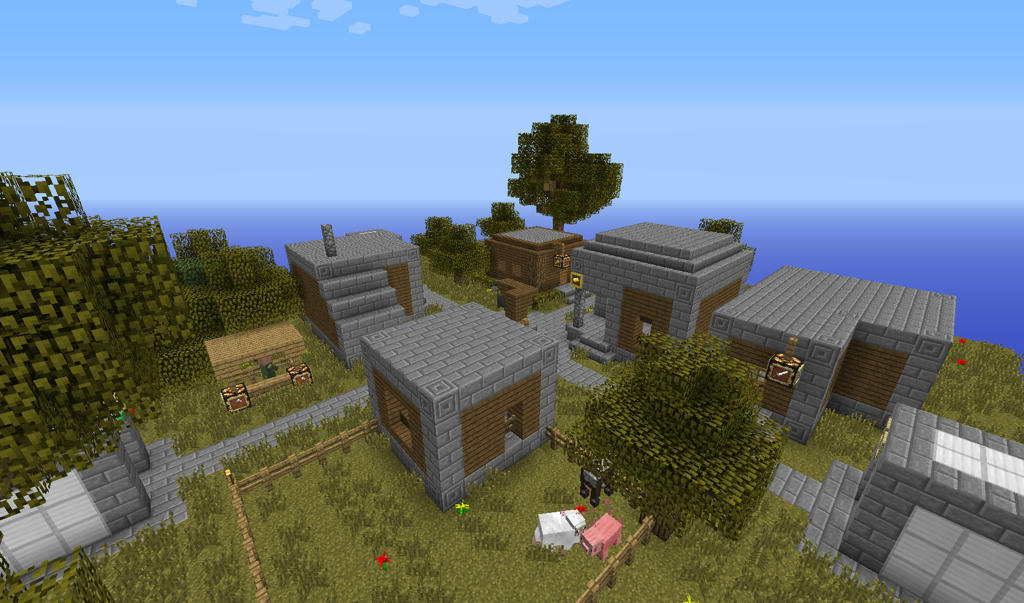 Casino:
In the casino you can use levels to play many games including a slot machine, roulette, rock paper scissors, wheel of fortune and a board game. You can also find instruction books about the games in the entrance room. The board game is laid out through the entire casino and your position is shown with a lit redstone lamp. With this game you can win free plays in other games and win gold and emeralds. In the other games you can also win gold, emeralds and levels, but a full prize list can be found in the instruction books in-game. You can also find some vendors in the casino selling custom food, potions, armor and enchanted books.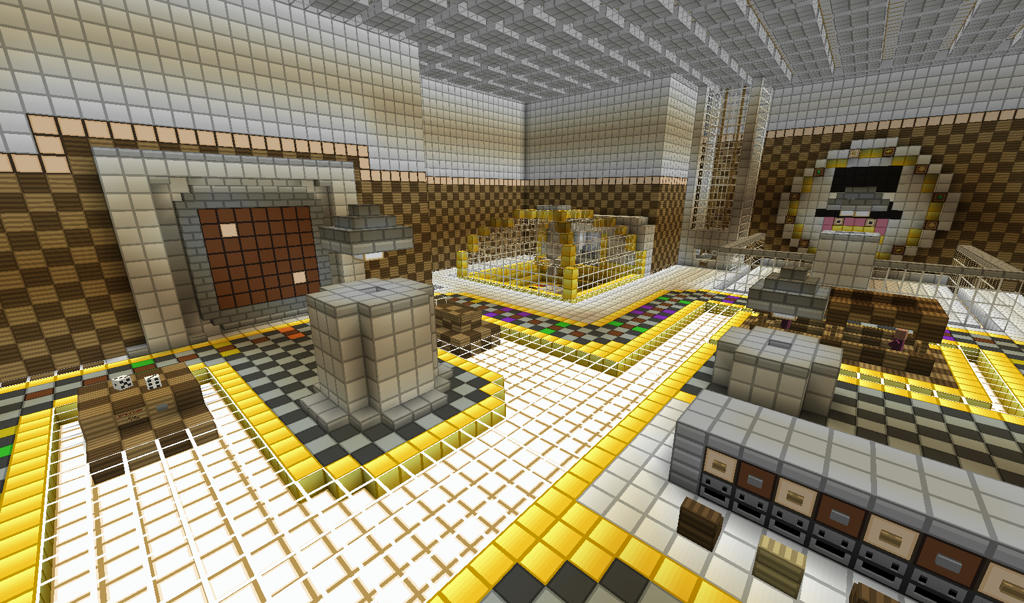 Mining Guild:
Here you will find an infinite mine, it's basically a minigame. You pay two levels to mine for one minute of mining. In this game you can find many different ores at a certain rarity. Once you've obtained some ores and stone you can trade them for gold and other stone blocks that are not obtainable normally. You can also buy mining related enchanted books for diamonds.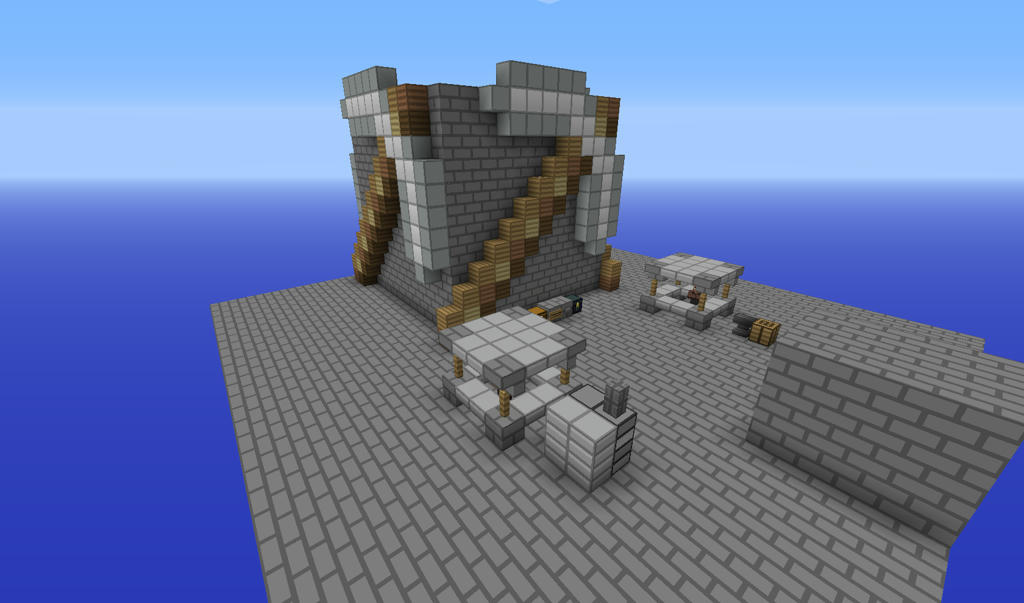 Castle:
The castle is a dangerous place filled with monsters. The monsters wear enchanted armor and weapons and pack quite a punch. But as soon as you get your hands on some good gear it should be no problem. There's many secret rooms and chest in the castle filled with monster tickets, gold and gear. You can sell your loot for monster tickets, these tickets are used to buy custom enchanted books, gear and fireworks.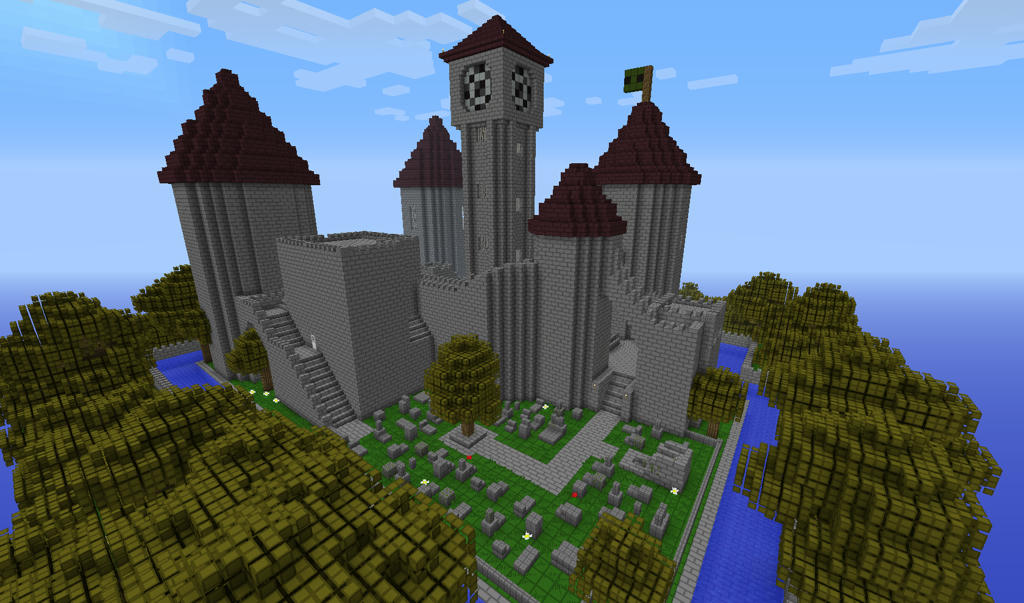 Achievements:
You can complete these achievements in any order you want.

Farm:
- Go fishing
- Make a simple tree farm
- Breed a cow
- Find the secret room
- Bake a cake or a pumpkin pie
- Create an automated farm with the crop of your choice
- Expand or rebuild your house and decorate it with a Jukebox, a painting and a redstone lamp
- Ride a pig
- Create a sheep farm with at least 6 colors
- Unlock the extra farm
- Build a Roller Coaster
- Break your Ultra Rod 5000

Town:
- Exchange a level for gold
- Buy some seeds or plants
- Buy some dirt
- Find the secret room
- Buy an animal
- Open the bridge

Casino:
- Get diamond or emerald on the slot machine
- Win Rock Paper Scissors
- Win an emerald in the wheel of fortune
- Roll 6 on the board game
- Buy a drink
- Buy some roller coaster tracks
- Buy a music disc
- Buy an enchanted book
- Repair the elevator
- Buy a tuxedo suit and a dice hat
- Buy all music discs

Castle:
- Kill some monsters
- Find some green armor
- Sell some loot
- Find 3 secret chests
- Turn on the beacon
- Buy some fireworks
- Buy some blue armor

Mining Guild:
- Play the mining game
- Mine some iron
- trade your cobblestone for other stone blocks
- Mine some diamond
- Mine some gold
- Buy an enchanted book

Videos:
Reply to this topic if you want your video here

Flubbaman:
TheTingelz
Reviews:
Unajunga: 9.8
Farm: 9/10
This farm kept me entertained while giving me something to do at all times. Whether it was arranging my many enchantment books or continuing to fancy-up my bridge to the other platform, I always had fun.
Town: 9.5/10
I loved the shops, and I loved how you kept it almost exactly the same as the last version! I loved how you even added a secret room to it this time, and the other place across the to-be-made bridge.
Castle: 10/10
I believe that the castle was the most credible aspect of this map. I absolutely loved the last version of the castle, and you just added onto it this time, there were many well-hid chambers to be happily discovered by me. I would definitely consider furthering the construction of the castle, I, and I'm sure many others would love that.
Casino 9/10
I loved the Casino! The fixing the elevator part was very interesting, and being able to buy tuxedo parts added onto it. I loved how you added new games on top of the old ones, I really liked that!
Mining Shaft 10/10
Oh my gosh, the falling stone blocks blew my mind. I loved the rewards that you could exchange the Cobblestone and various Ores in for, I bought almost two stacks of stone bricks to make a tower there.
Overall map: 9.8/10
Thank you for providing this wonderful map to me! I loved it so much, probably one of my favorite maps of all time. I would recommend this map to anyone who likes Minecraft, it has something for everyone!
Timonp2000: 9.5
Farm: 9.5/10
Very good idea to make the farm woolish, so getting the dirt is a challenge. Fishing for hours to get XP and buy a sword to get even more XP at the castle is very fun.
Town: 8/10
There is a lot of shops, and all of them are useful. The secret room is easy to access since it's the same as in the Farming Platform 2.
Castle: 9/10
A very good change in the castle, before there was only a under-well hidden room, all other were easy to access, but now each room have a lot of ways to enter and get secrets. I really laughed at tuxedo zombies with empty bottles.
Casino 8.5/10
The casino has got a lot of changes since the last time. Now with 5 games it is really more fun. But IMHO, you should keep the music disc seller and make the barmen sell vodka that gives nausea for 20 seconds xD.
Mining Shaft 10/10
I never could think that we can use NBTedit to make a falling stone/ore minigame, very good idea

. It is1 a great change to the 2nd part seller of iron and diamonds. Also, trading cobble for stone bricks, sandstone, etc. is very awesome!
Overall map: 9.5/10
AWESOME MAP!! Everyone must play it, even Notch! You, Booncraft is a very awesome map creator!
Also, i am hosting a hamachi server with the 3rd part of the map, if you are interresed, tell me!
Texture packs:
To enjoy this map to the fullest you'll have to use a texture pack, all they do is change certain textures to fit the items name. For example the tickets in the casino need a retexture because it's just a blaze rod with a custom name. The texture packs are included with the map download but you can download them separately here.
Farming Platform texture pack:
http://adf.ly/Gbz2p
Disco's oCd version:
http://adf.ly/Gbz4N
I might make more versions if requested.
Download:
Farming Platform v3.2:
http://adf.ly/HW9eh
Change Log:

V3.2:
- Casino bug fixes for 1.4.7
- Replaced the ender chest in the house with a normal chest with an ender chest in it
- Other minor changes and bug fixes


V3.1:
Casino:
- Added Green Tea and Vodka to the foods vendor
- Added a records vendor
- Added a mine cart vendor
- Fixed the free game bug
- Coupons can only be bought with emeralds
Mining guild:
- Added glowstone and "secret" stone slabs to the stone shop
Town:
- Added string and saddles to the miscellanious vendor
Farm:
- Added Fishing Rod 5000 to the chest instead of a normal rod
Other:
- Keep inventory rule is is now turned off
- Added some achievements

Old versions:
[represent]