Wasdf111

Coal Miner
Join Date:

6/14/2011

Posts:

98

Member Details
3 more starting islands, a sand sphere, 4 more resource islands and 4 nether portal islands
Changes
v1.1
melons not pumpkins

v1.0.1
Fix nether stuff
Changes
v1.1
melons not pumpkins

2 player (corners edition) pictures
all it is the 2 corners of 4 player removed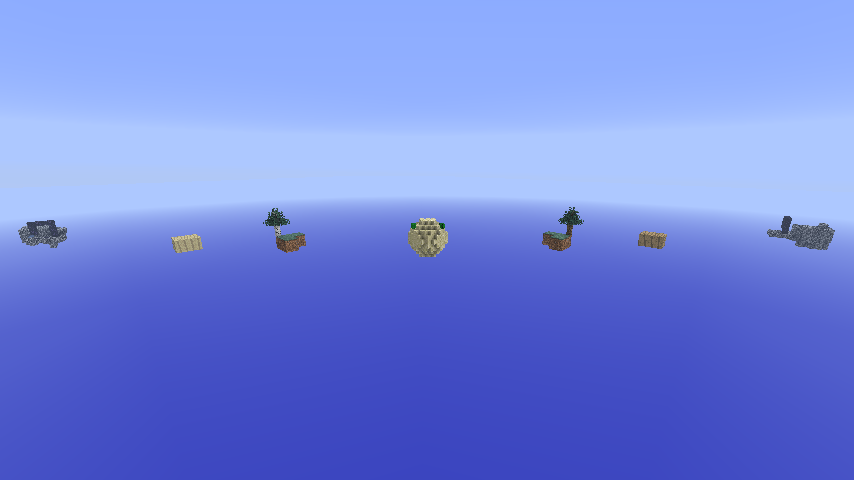 Recommended 4 players. (If you have more why not make teams?)
This is a general overview showing the 4 starting places, the sand sphere, 4 resource islands, and 4 nether portal islands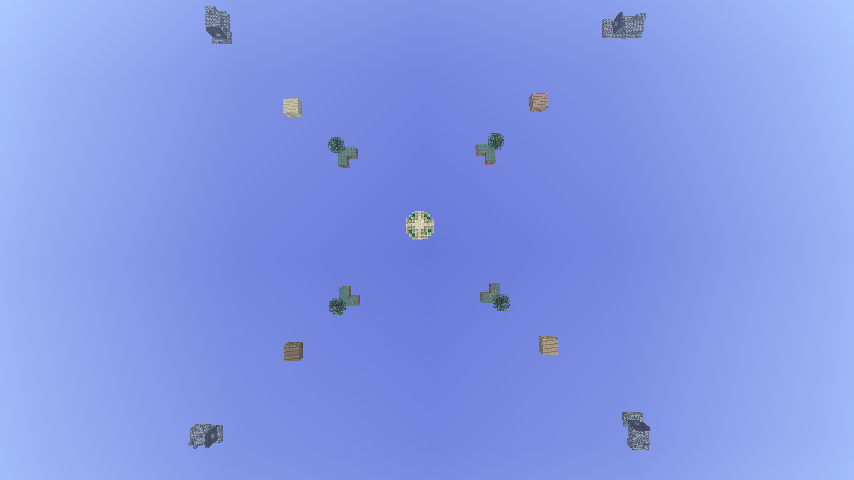 Rules
You must do whatever it takes to win (however suicide counts as a loss)
You may modify the rules to your own liking (ex: race to the nether, several lives, no weapons, no cobblestone etc.)
Your starting island has a hidden chest (very easy to find) with basic starting materials
Your second island has some resources you will need late in the game as well as wood
Your nether island will be used to go to the nether and acquire good materials

Sandsphere
This sandsphere contains valuable materials as well as sand, sandstone, and cacti
​
Where will you go first? The sand sphere? The resource island? Make cobblestone on your own island? Cross the 40 block gap to get your opponents right away? The decision is yours!
Finding starting chest
It is diagonally across the tree one block below surface
Contents
Ice, lava bucket
Resource island
The chest contains 8 feathers, 4 melon seeds, 12 gravel
Why?
melon seeds = food, feather and gravel = arrows
Sand sphere
It is 28 blocks (diagonally) from your island
Contents
In the middle there is a chest with a bow & arrow and experience points
Throughout the island diamonds, iron, coal, and redstone is spread out
Nether island
To access the nether you will need a redstone torch which will give you obsidian to finish the portal, then use flint or burning wood to light the portal
Sabotage
If you use redstone on other people's islands you can sabotage them by not letting them use the nether... but they can use your portal and the first person to get to the nether pretty much wins anyway
Full guide to nether (and rewards)
Get to the sandsphere with a pickaxe



Mine some Iron



Make an iron pickaxe



Collect redstone



Make a redstone torch and (optional) flint & steel



Go to nether island and place redstone torch in designated place



take obsidian given from the ice shaft



Place the obsidian in the portal



Activate the portal



Reap the benefits of an enchantment room (1 layer of bookshelves only -- the rest can be found in a chest) as well as a diamond sword with knockback and sharpness and enchanted leather armor
Projects 2 player straight line map
3 player triangle
Large map -- More space between islands
Large map -- more islands (monster spawning islands, pre-built farming islands, floating village?) Leaves suggestions
Signature: (remove **)
Download count -206
16 - 5/13 12:00 PM
82 - 5/13 2:00 PM
110 - 5/13 5:00 PM
122- 5/13 11:00 PM
142- 5/14 3:00 PM
155 - 5/14 11:00 PM
181 - 5/17 4:00 PM
206 - 7/27 - Never updated lol
255 - 8/21 - thats cool I guess