Sacheverell
Retired Staff

Silver Voicemin
Join Date:

12/9/2010

Posts:

2,222

Minecraft:

Sacheverell

Member Details
Minecraft - 9 Million Sales, and Counting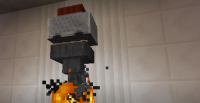 _________________________________
That's right, the PC version of Minecraft has surpassed
9 million sales!
Minecraft as a game continues to have a phenomenal level of success, with humble beginnings in the hands of Mojang founding member Markus "Notch" Persson, and growing over a period of years into one of the most successful indie game titles in gaming history. In addition, the recent changes to Minecraft in 1.4.7 - and future changes planned the game, including Mod API support, more adventure map options, and all sorts of customization options, including the highly anticipated Redstone Update - Mojang continues to push the game to new heights, even as they get involved in the community, with everything from
direct-feedback bug fixing
to real-life renewal projects.
Pocket Edition Update 0.6.0 Now Submitted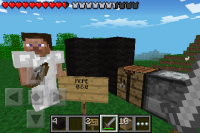 _________________________________
That's right, a new update for Pocket Edition was recently submitted! It can take up to a week before the update becomes available for iOS or Android, so don't worry if you don't get it right away! Some of the changes include:
New features:


Signs
Armor
Baby animals
Fancy clouds
Improved D-pad
Stonecutter for crafting stone blocks
Sheep can be colored with dyes
New block types: Netherrack, Nether Brick, Block of Quartz with 2 variants (pillar and chiseled), mossy/cracked Smooth Stone Brick variants (creative only), chiseled/smooth Sandstone variants
New stairs: Nether Brick, Sandstone, Smooth Stone Brick, Quartz
New slabs: Sandstone
New item: Nether Brick (smelted from netherrack and crafted into nether brick tile)
Upside-down stairs, corner stairs
Slabs can be placed in up position (needs testing on small screens)
Sand and Gravel are affected by gravity

Tweaks:



Recipes for crafting slabs give 6 slabs instead of 3 (as in PC version)
Nether Reactor spawns Netherrack blocks instead of Obsidian
The fog and sky color have changed
The Nether Reactor now spawns more items
Cows drop Leather

Bug fixes:


Melons had several bugs where they would spawn too fast and where they shouldn't
Notice for Android users:
Starting with this update, Minecraft Pocket Edition will require Android 2.3 or later. This means we no longer support Android 2.1 or 2.2, but you will still be able to play older versions of Minecraft Pocket Edition.