txzzo
Carpenter
Join Date:

7/11/2011

Posts:

61

Member Details
Wow ,15000 views just WOW!
Hello and welcome to my guide on how to increase fps.
First of all if you don't like reading follow my videos instead,
Link
**Importante update!**
I have a new computer so I no longer have fps drops, this means that im not hunting for fps anny more.
But I still have firends with bad computers so I will still update this guide whenever I find something interesting.
I will still look in this thread like twice a week so leave questions if you have.
My computer specs are Intel Pentimum T4400 2.2 ghz,4gb RAM(1.5 gb shared with videocard),intel GMA 4500M and I run minecraft at pretty good settings(Some where between short and normal) and i have about 30fps.
Results from the guide!
Normal render distense:(took like 2min to render this in minecraft)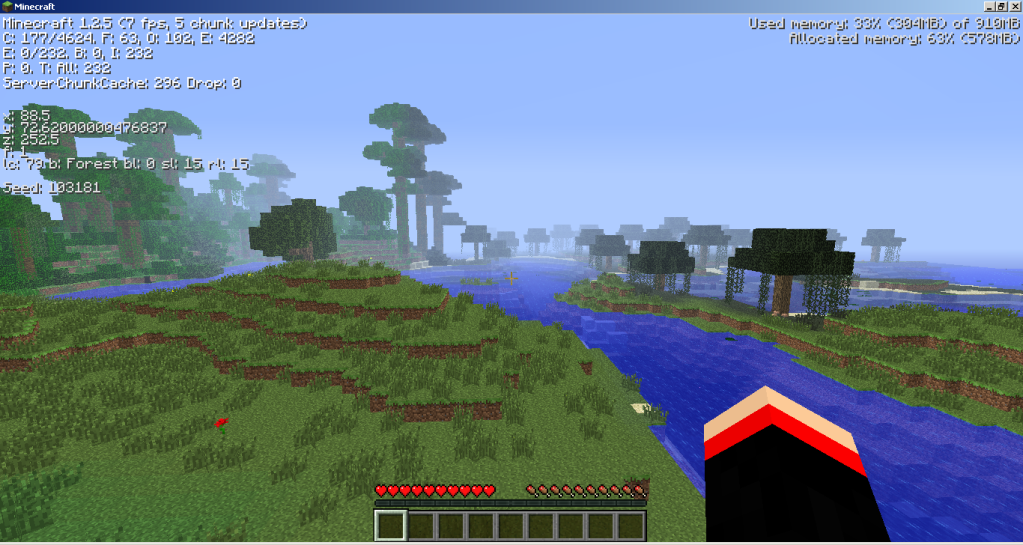 (all steps in the guide completed)Lowest setting in optifine but with normal render distence: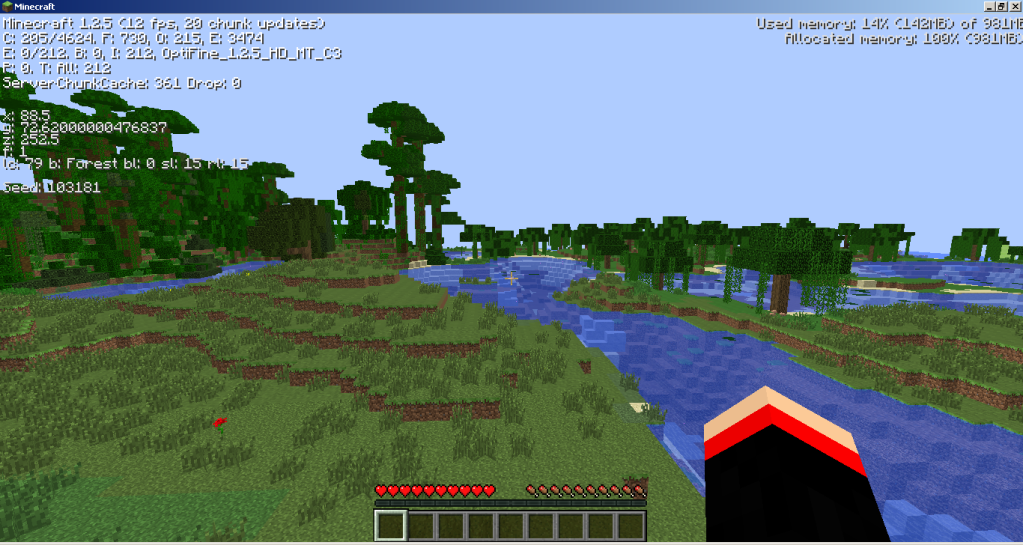 (all steps in the guide compleated)My special settings:(Watch step 3 for my settings)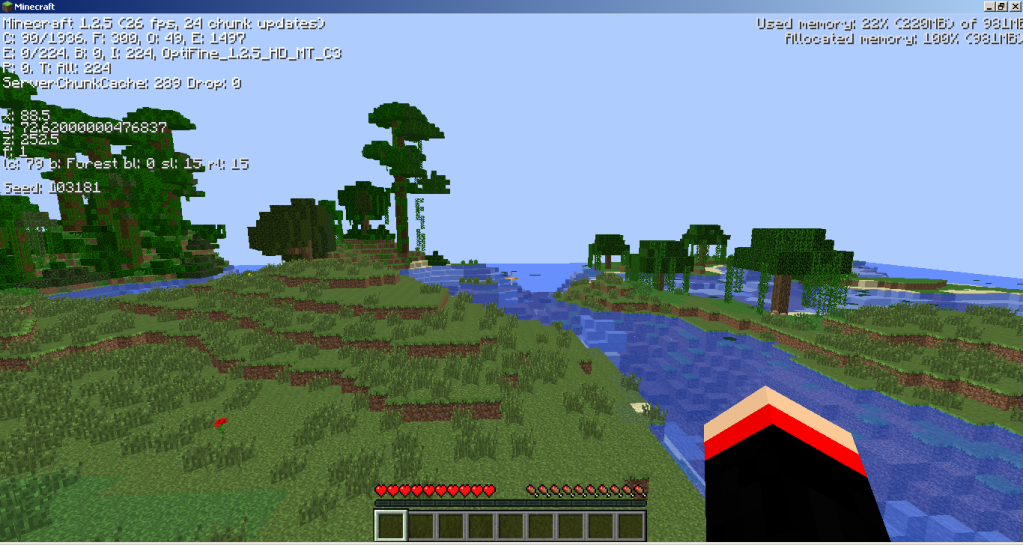 Before you stat the guide try this 2 steps and if dosent help continue with the other steps.
Prestep 1:
Make sure that Minecraft is using your dedicated graphics card and not your integrated graphics.
This is mainly for desktops but some laptops have dedicated graphics.
If you are lucky Minecraft might use your integrated graphics and it will be an easy fix and you only need to do this step in the guide.
Right click Minecraft.exe and look for Preferred Graphics Processor and tell it to use your Nvidia/Radeon(Might say AMD im not sure) graphics card.
Credits to
Baumstreik
for this step.
prestep 2:
Make your minecraft run from a flashdrive.
This will help if 1,your hhd is slow 2,you want to record but you get realy low frames 3,you are running a server and get frame drops because of that.
First plug in a Flashdrive and copy your .minecraft into your flashdrive.
How to find .minecraft
Windows, you need to open the "Run" function and type %appdata% and then .minecraft.
Mac, Go to finder, press command-shift-G. then type in "~/Library/Application Support/" (I found this on internet so I have no clue if it works,let me know please)
Linux, Go to /home/Yourname and right click and "Show hidden files" .minecraft shod now appear.(I found this on internet so i have no clue if it works,let me know please)
Now you open up
Magic launcher
and go to setup and next to mods click advanced
Follow the pictures: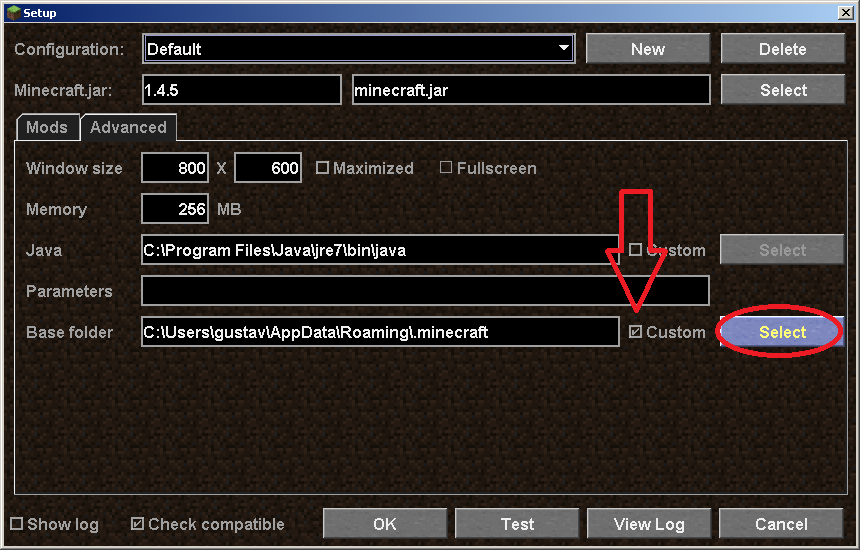 Go to your flashdrive and into .minecraft
1. right click on the empty space in .minecraft and press properties.
2.You will get up a smal window that tells you the properties of the map and it will say location: and then a letter :\
3.Write it in the adress bar where arrow 3 is and you need to have the :\ after the letter and then write .minecraft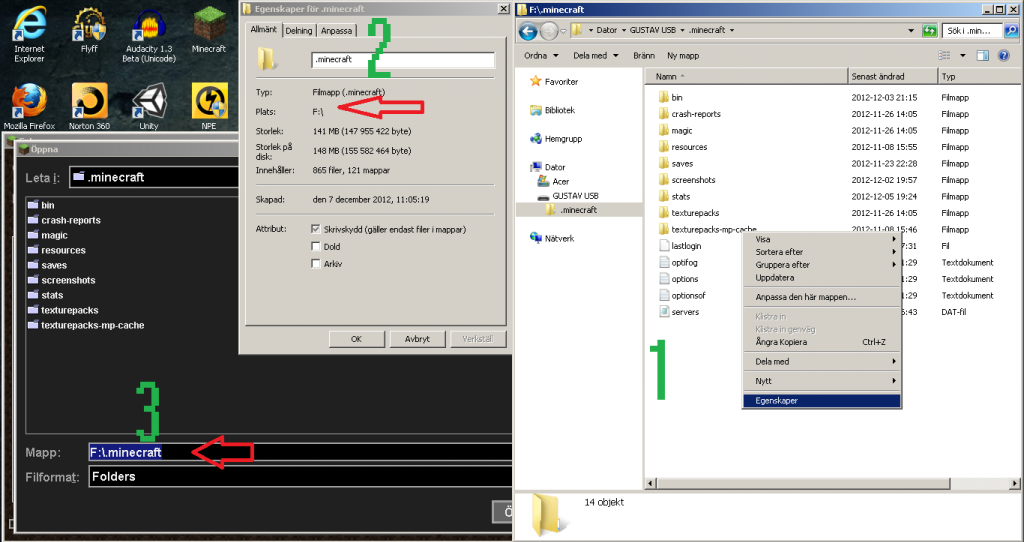 NOTE
I beleave that you always need to have your flashmemory in the same slot when you play minecraft otherwise it will get a other letter and magic launcher won't find it.
If this dosen't help all you need to do it deleate .minecraft from the flashmemory and go back into Magiclauncher -> setup -> advanced and unclick custom.
Credits to
Dogtag93
for this step!
**NOTE**
BEFORE YOU DO ANYTHING COPY YOUR SAVE FOLDER SO IF SOMETHING GOSE WRONG YOU WONT LOSE YOUR WORLDS!
Step 1:
As for right now the current version of LWJGL(2.8.5) is bugged I cant use it for minecraft 1.4.5/1.4.6 if you are lucky maby you can use the updated LWJLG but use the the jinput.jar that comes with Minecraft!
The problem is that the new LWJGL can just keep track of one button(A bug I guess) at once witch cause problems.
However it works with LWJGL 2.8.4
First of all you need to find your .minecraft folder.
How to find it:
Windows
, you need to open the "Run" function and type %appdata% and then .minecraft.
Mac
, Go to finder, press command-shift-G. then type in "~/Library/Application Support/" (I found this on internet so I have no clue if it works,let me know please)
Linux
, Go to /home/Yourname and right click and "Show hidden files" .minecraft shod now appear.(I found this on internet so i have no clue if it works,let me know please)
Now you can download the latest version of Lightweight Java Game Libary from
http://www.lwjgl.org/download.php
Extract the archive and go to the jar folder in the archive that you just extracted.
Now you need to go to your .minecraft/bin and replace the .jar files with the one that is in the archive.
Only replace the one that are in your .minecraft/bin(For windows its Jinput.jar, lwjgl.jar, lwjgl_util.jar)
Now when you have done that open the archive again and go to native and click on the folder that has your operating systems name on it.
Copy all of these files and replace the old.
Step 2:
Download
magic launcher
and a mod called
Optifine
. Take the ultra version since it include all other versions.
Magic launcher is optional but it makes mod installing easier.
Start launch magic launcher and press setup.
and then press add: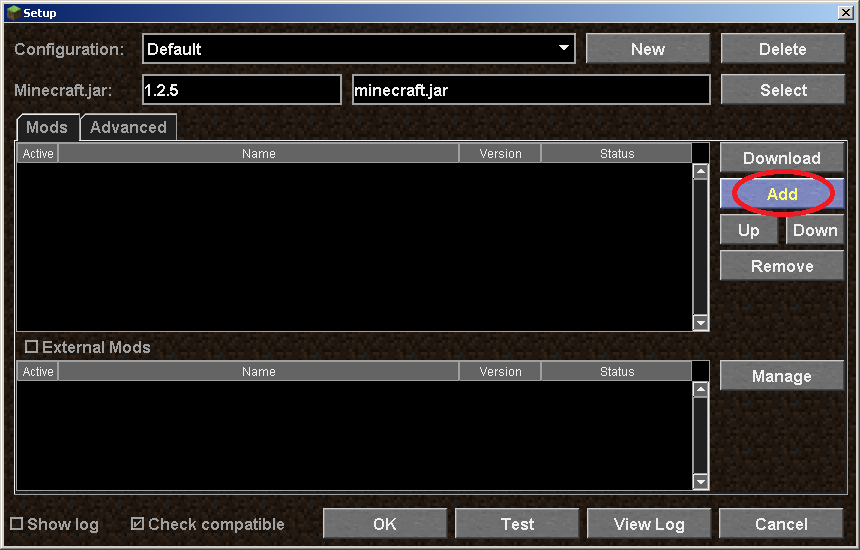 After that press the optifine version that you selected and press open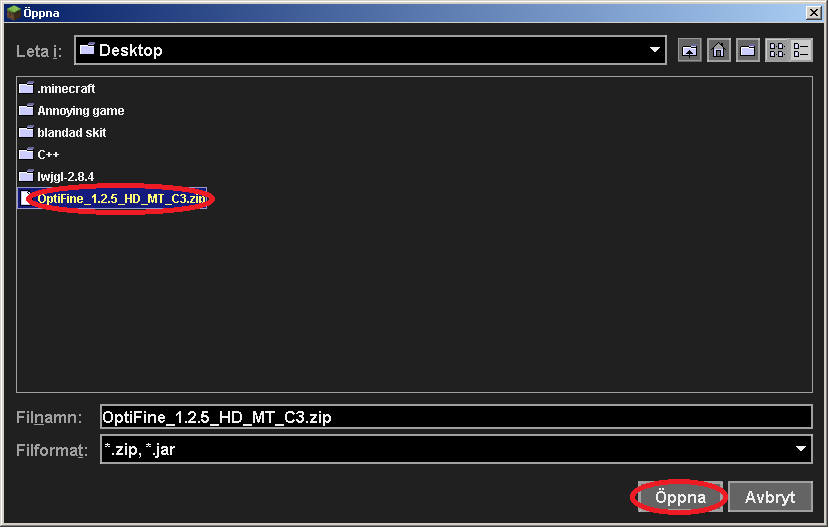 Step 3:
You can now launch Minecraft.
Go to options and video settings.
This is the settings that I found to be the best.(For my computer)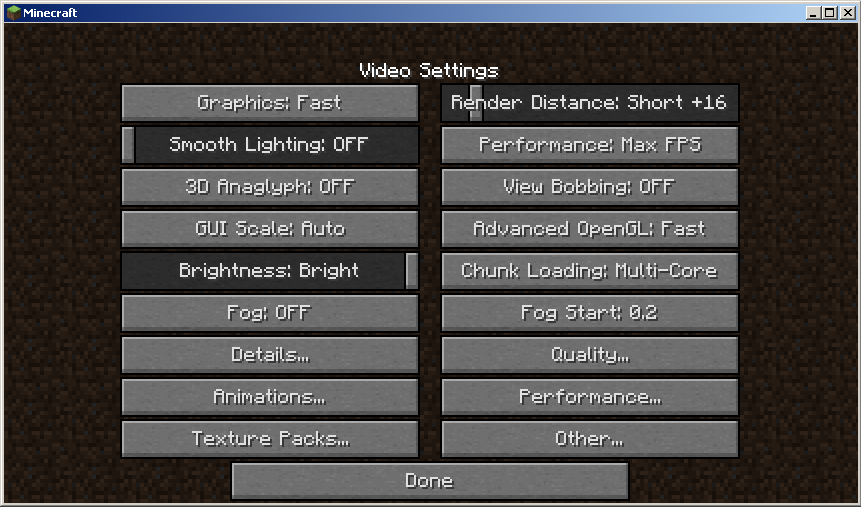 Detais:
Quality: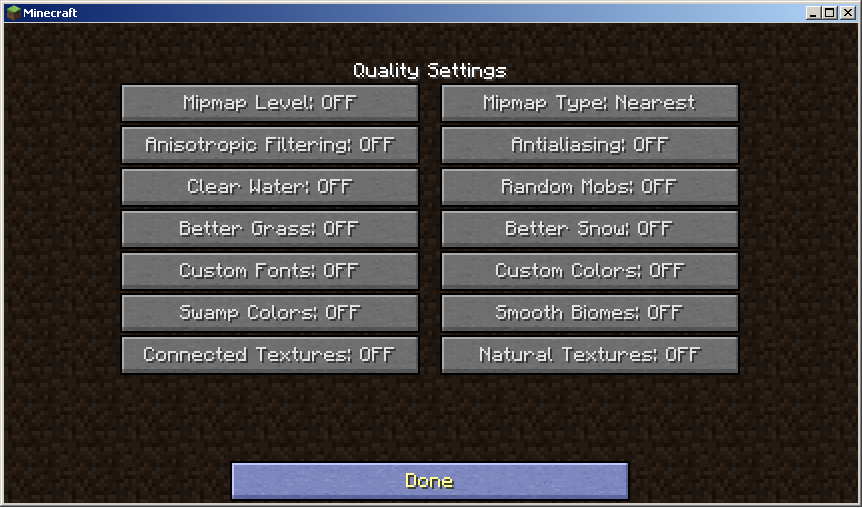 Animations: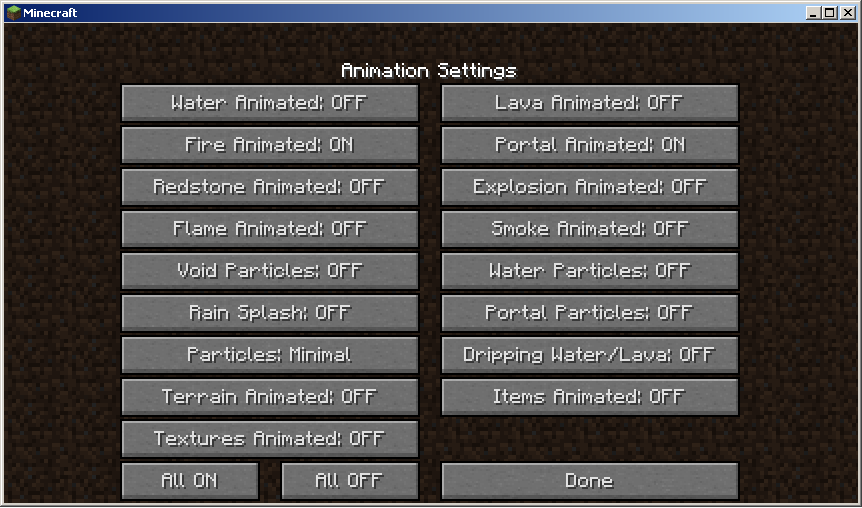 Performance(Best for my copmuter so its optional):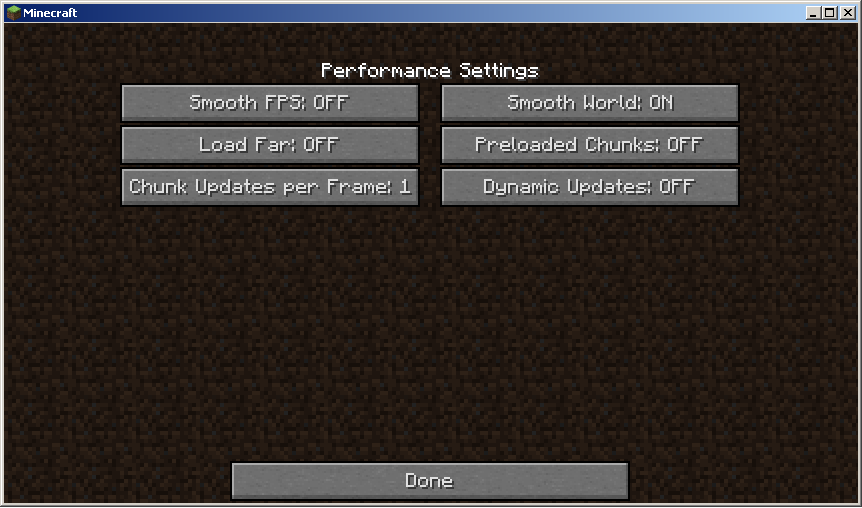 Other(Best for my computer so its optional):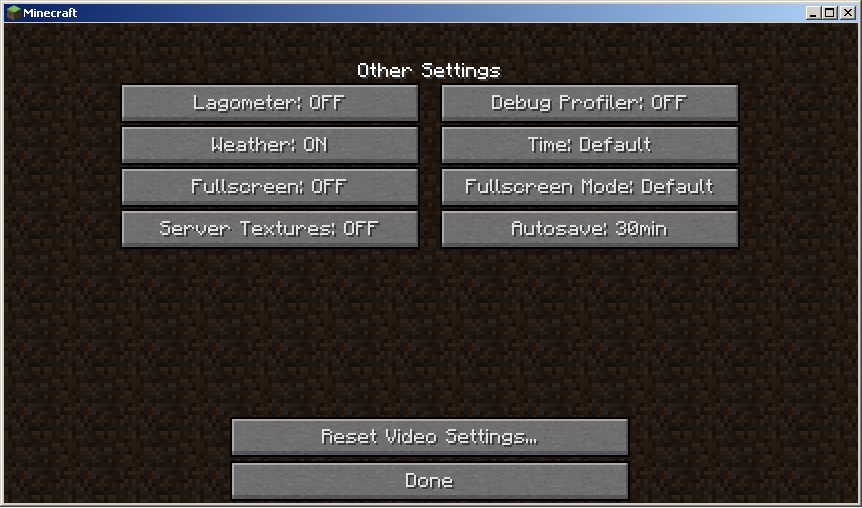 Step 4:
Update your java
http://www.java.com/...l.jsp?locale=sv
Nothing more to say realy,just uninstall the old version.
Step 5:
(This only works if your CPU is the bottleneck)(Keep an eye on your computers temperature!)
This step slows down other programs that are running while you are playing minecraft.
Right click on windows taskbar and press start Task Manager.
Locate java.exe (javaw.exe if your NOT using Magic launcher)Set the priority to above normal or high.
DO NOT SET IT TO REALTIME!!!!!,NO QUESTIONS JUST DON'T DO IT! YOU CAN DAMAGE YOUR COMPUTER IF YOU DO IT!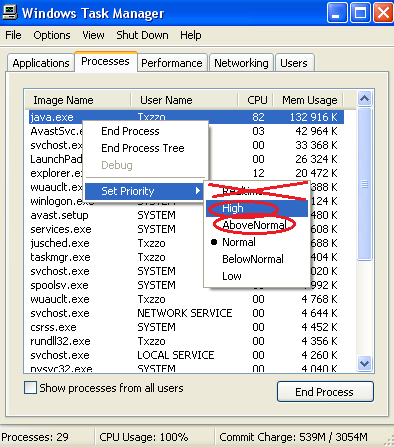 Step 6:
close all background programs like Skype, Utorrent, MSN anny program that you don't use.
A bug(?) in Internet explorer makes it not close fully some times when you turn it off so go into taskmanager and stop the process iexporer.exe(*32) if you have used internet explorer and then go play minecraft.
Step 7:
Clean your recycle bin and defrag your harddrive(DONT DO IT ON SSD)
Open run and type: dfrgui.exe.
select hard drive C: and press defrag.
Translate it to your launge if it dosent say defrag, but it shod be the right button.
Step 8:
scan your computer and remove any virus.
I don't know a way to identify your antivitus but look at the bottom right off the screen and see if you find something like norton,AVG,avast!,mcafee,nod32, f-secure.
If you don't find your antivirus program then just skip this step.
step 9:
If you are on a laptop you can change between diffrent power stages, power saver, balanced and a third one called some thing like high performance ,I have swedish windows so i might be wrong with the names.
Open windows searchbar and type Power plans (I think,as i said im on swedish windows)Make sure that your computer is conected to the wall when you do this because you will get like 15 min of battery time if you do it when your on your battery.
If you change the power plan while having your computer connected to the wall it will not effect the battery time because the computer know when to use what setting.
Any ways change to high performance, you might need to click on show more power plans or something to find it.
This might gain you some FPS,I don't see any difference but you might.
Step 10:
This only works on windows!!! I don't know if this works on vista but I think it dose.
This step will make your windows to look like ­ but you get some performance boost.
Anny ways you want to go to "Start" Right click on my computer, and select properties, then advanced systemsettings.
Now follow the pictures:
Step 11:
Some good antiviruses scan all the files that is created on your computer, so it scans minecaft all the time.
To fix this you need to go into the options on your anti virus and add .minecraft so your anti virus dosen't search threw the files that are created/changed when your playing.
IF YOU DO THIS STEP SCAN ALL THE MODS THAT YOU INSTALL FOR VIRUS BECAUSE YOUR ANTIVITUS WON'T FIND IT SINCE IT'S TOLD TO NOT SEARCH THE FILES IN .MINECRAFT!!!!!
Step 12
(Only if you know what you are doing):Update your videocard drivers.
I won't tell you how because if you don't know how to do it just don't do it,you can damage your computer.
Step 13:
since you are probebly on a low end system with not alot of ram you might get more fps if you give minecraft less ram to use.
Give it 256mb ram, the deafult is 1024 mb(I think?).
Launch magic launcher and press Setup, then press advanced next to mods.
Change "Memory" to 256mb.
Log on to minecraft and see if you get any difference.
I get no FPS diffrence but on my old computer it prevents me from getting "Minecraft has run our of memory".
You can also try to give minecraft more ram, but make sute that you will have some memmory left for windows and other programs.
Step 14:
Use game booster it might help you, It will shutdown bakground programs that you don't need while playing minecraft(And other games).
Link
(same program ar used in step 17)
Step 15:
Download a mod called Fps++ this might increase your fps if your CPU is your bottleneck.
Link
, Install it same way as you did with optifine.
Step 16:
Download CCleaner and clean your computer you can do it manualy but CCleaner is less complicated.
CCleaner won't harm your computer it deletes temporary files that the computer once used and it don't need it anny more.
Step 17:
Stop the process called Explorer.exe,You can do it manualy or with
gamebooster
.
This will help if you don't have alot of ram.
I recomend doing it with gamebooster since its easier.
This will temporary remove the windows taskbar and all the desktop icons.
**Manualy**:(Not recomended)
Start minecraft and login.
Go into tastmanager and close explorer.exe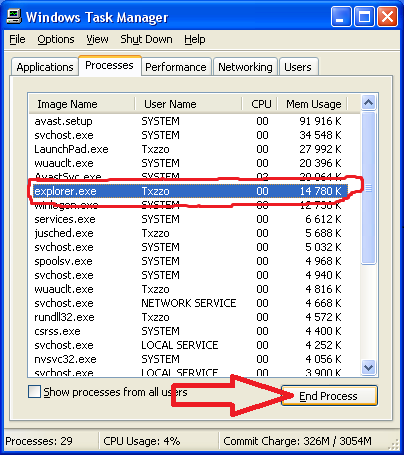 your desktop will now look like this.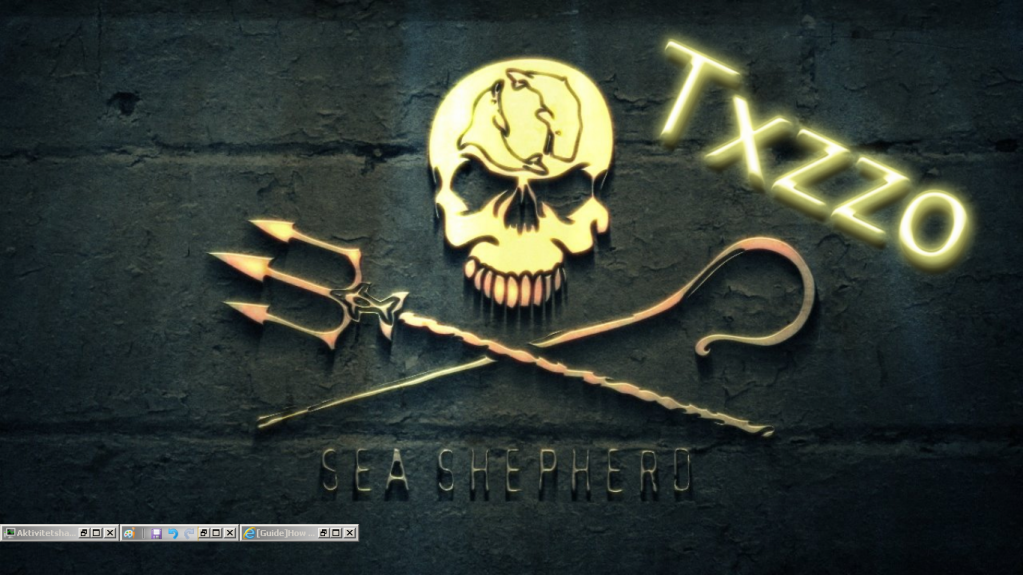 You can now play Minecraft

To open explorer.exe again and get all back to normal go into task manager (Ctrl+alt+del and taskmanager)

and then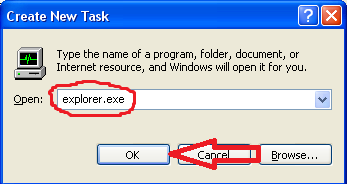 **Automatic with gamebooster**:(Recomended)
Open up gamebooster(
Download link
)(Now owned by Razer) and go into configure to the right of launch button: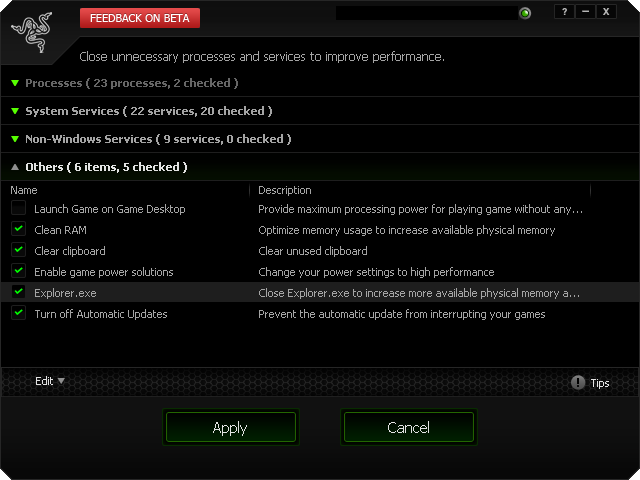 Right click on magiclauncher.exe and press "Run with Razer Game Booster"
Step 18:
This dosen't work on intels graphics and i'm not sure if it works with AMD integrated(!) graphics.
Any ways go into mincraft and press options and video settings.
Change Fullscreen to 1024x720 or 800x600.
Then press F11 to go into fullscreen mode, If minecraft craches then you can't play fullscreen due to to a bug.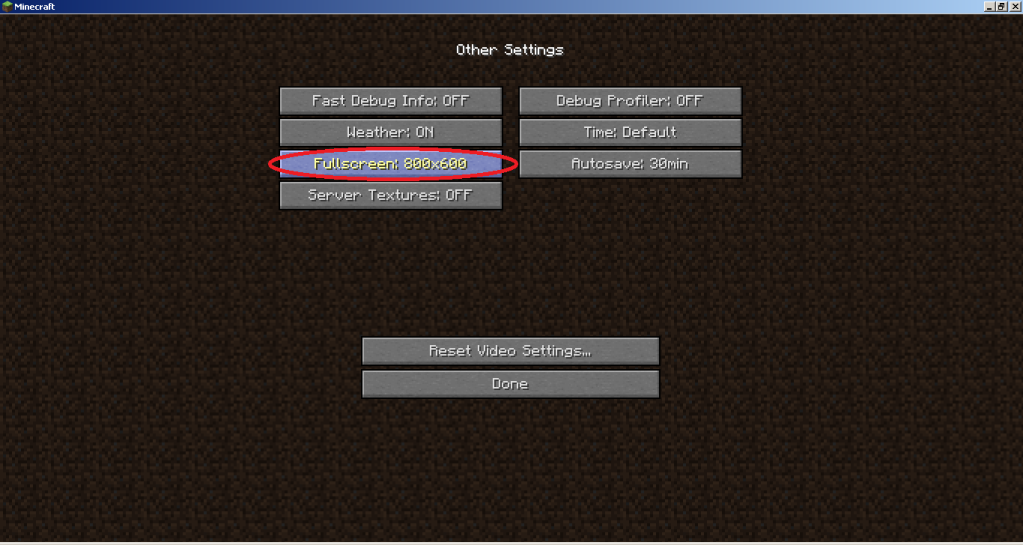 Step 19:
Use a 8x8 texturepack might increase your fps,I got like 2-5 fps from using it.
And i think my fps got a bit more smooth.
This
is the best 8x8 texturepack that I found.
Please leave a coment and tell me what you think about the guide.
What can I improve and is something unclear?
Mods and things I still need to research:
Crash & Lag Protecter
needs to be tested.
Outdated stuff:
For 1.2.5 and lower the light update wasen't that good, it caused alot of lagg.To fix
this
get this mod
End words:
*I might update this guide in the future, if i get positive feedback(Holy crap
sp614x
gave me 1+ reputation for this guide,I'm really happy

)
*On my old desptop computer I got a HUGE fps increase by doing this i went from 10fps on tiny to 60fps on far!!!!
*If you know how to increase fps eaven more feel free to post and I will add it to the guide.
*I take no credits for Optifine and Magic launcher
sp614x
is the one that made them.
*I take no credits for Fps++
fishtaco567
is the one that made it.
*Always keep an eye on your temperature so your computer dosen't get to hot,this is common on laptops.
Hope this guide helped you
//Txzzo
Last edit: Done with rewriting the guide!
Added one more step as a prestep.
Last edited by
txzzo
: Feb 23, 2013