Roatse
Out of the Water
Join Date:

3/1/2011

Posts:

3

Member Details
.Minecraft Republic presents.

MineRealms server information

MineRealms is a server for the people
, from beginners to experts, ages 8 and up. We believe that the Minecraft experience should be shared to anyone willing to share the experience to others.The Minecraft Republic consists of a number of dedicated players who enjoy playing the game as the Minecraft community has built it; this means user created mods, adventure maps and more, and with the working capacity to host we are happy to provide this server to share what we enjoy. This does not include griefing, swearing, offensiveness or causing illegal actions to break our no-lag policy. Results of such offences range from warning to instant ban. We want people to be able to build, explore, fight and mine without threat, by working as a community we can build some amazing things, meet some amazing people and achieve some amazing achievements. The server cap will be 64. The area around spawn has naturally been where everyone, including the Minecraft Republic started building, so get comfortable there and then move away to some cities when you're happy.

MineRealms Features

(Anything marked with a * are features granted as rights when you are proven trustworthy to use.)
General
• Worldedit*
• Cuboid*
• Item spawning*
• teleporting*
• Cross-server portals
• Minecart Mania
• Unlimited health
• Warps
MineRealms main server:
• No monsters
• No mobs (subject to change)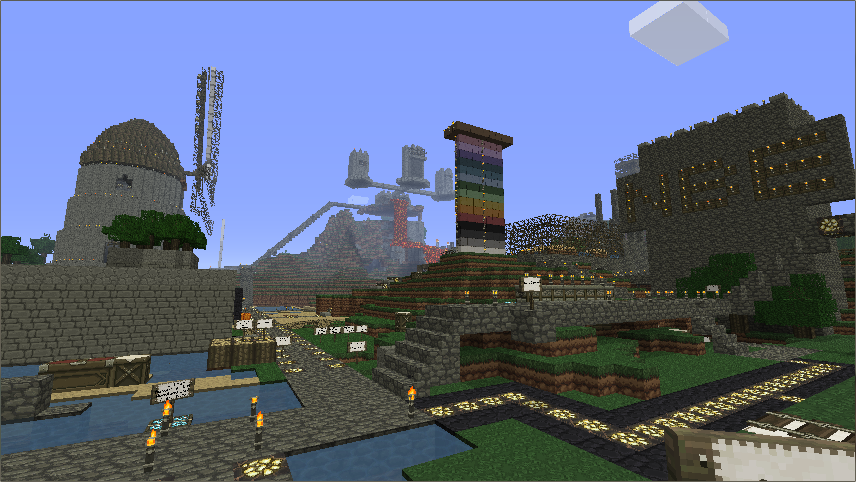 This is the server where every new user will begin
, get settled here, explore some of the other user buildings and establish yourself to prove to us that you can utilise some of the other rights. Feel free to look around the map for your perfect home spot,
no borders
means you can generate land to fit your needs.
The Nether
• Monsters active
• Unlimited health (subject to change)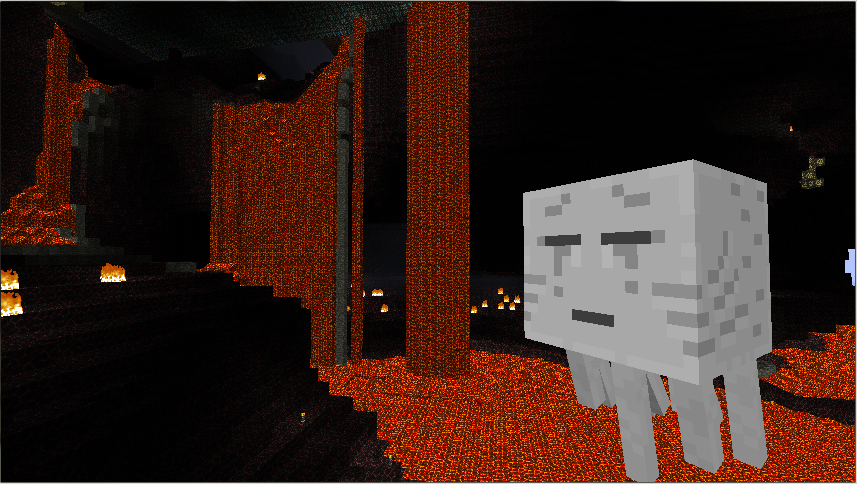 The Nether provides a whole new set of scenery where users can build some interesting things that you may not see in the main map.
Monsters are also active
, so enjoy slaying some critters, but for now consider it Aliens vs. Predators where the predator always wins, although, this isn't much fun so we'll keep you posted as to when the health is corrected.
Old PCG (That's right, the old PCG map before Beta)
• Monsters not active
• Mobs not active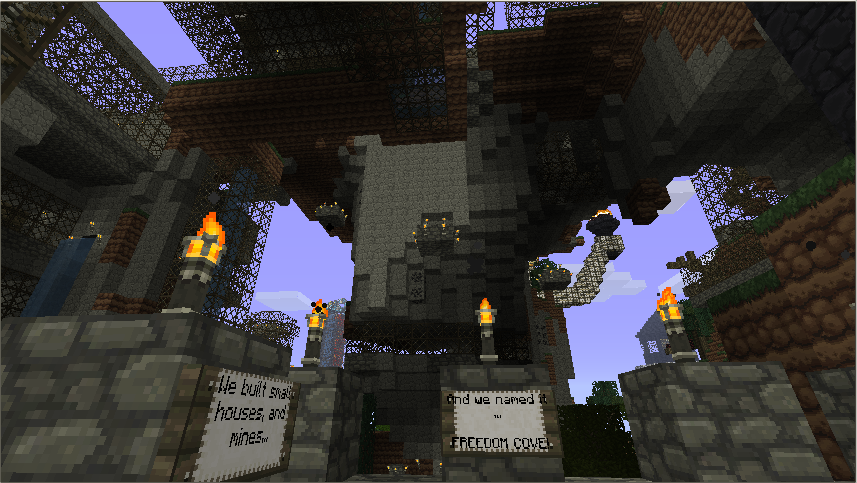 This map is a large, filled map where Old PCG builders may or may not be using the MineRealms server, so
we advise that you avoid building here
unless you already own one or more of the structures. Griefing will be punished just as hard here as on the main map,
please respect it and enjoy the view!
Madness Map (New)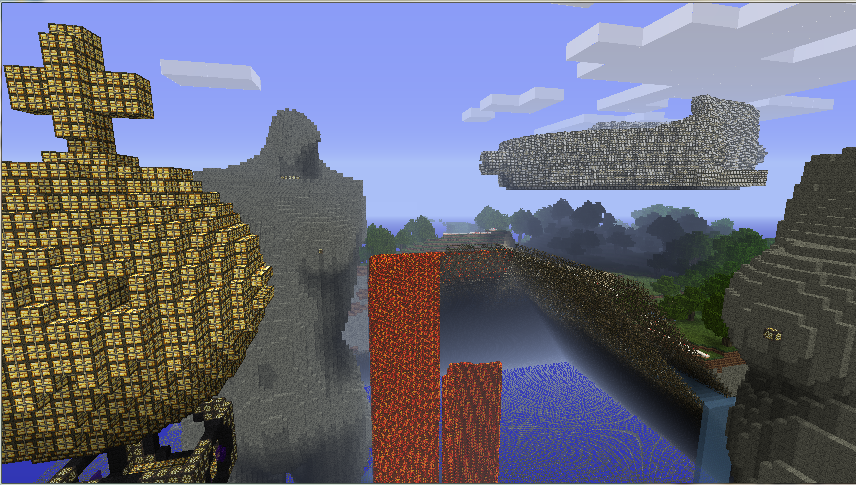 A map where users granted with Worldedit and Cuboid rights are permitted to
explore their modded abilities.
Top Tip: expect a mess
and build away from other users to avoid accidental griefing, since this is a practice map grieving wont be punished as strongly as other servers.
Sides
• Monsters active
• Mobs active
• PvP - Red vs. Blue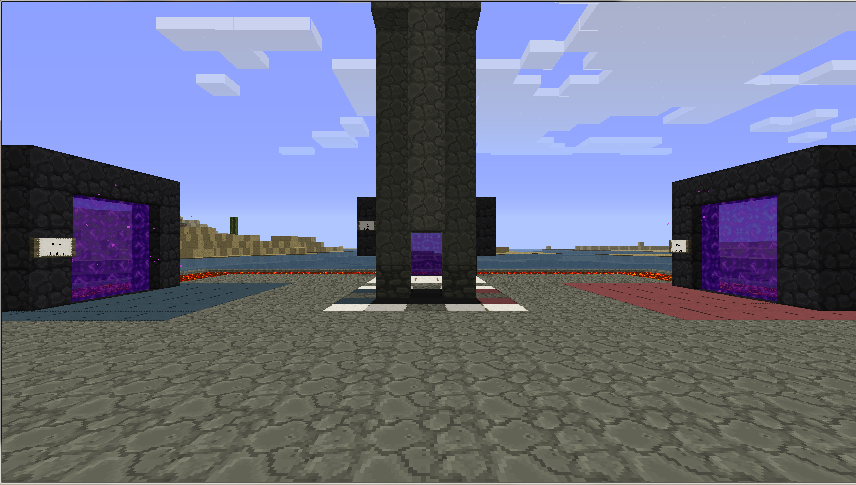 Enter the Red portal or the Blue portal to join a team, teams can be capped and made even. Once in Sides;
hunt out your enemy and defeat them
, the team with no fighters left loses. Defeated fighters are moved into the Sides Graveyard.
Event Maps
(Coming soon)
• EscapeCraft 1 & 2
• FourTowers
• And Many More
Event maps are for
seasonal
use. Access will be limited to 1-3 users and maps will be reset between access periods.

General Rules


NO griefing

NO stealing

NO offensive language

NO spam
Failure to adhere to any of these rules will result in punishments ranging from warnings to instant-ban depending on the scale of the incident. A case may be presented via our forums to repeal the ban if you feel the banning was unnecessary.
We try to provide a safe, comfortable environment for everyone, this means any particular user's beliefs may differ from your own, so please respect that and if it becomes a problem consult a higher ranking user or avoid said distressing topics, if it gets out of hand we will resort to punishment. (Founders/Admins reserve the right to refuse access to the server to anyone, for any reason at any time.)
VIPs and above will only spawn items for you if they are otherwise unobtainable, such as brown cloth or string. They will not be overly generous with the production unless it is warranted.
Any additional rules created in user built towns/cities are communicated in-game by the land owner and will be sanctioned by them, all the general rules will still apply unless asked to be made void by the land owner.

Client Mods

We allow certain client mods
on MineRealms to enhance the user's experience and productivity. Client mods we currently allow are:
• Zombe
• Others - Ask on login

No Lag Policy

This may seem like a given but
we take lag very seriously here
. We allow members to explore unexplored regions of the map and travel across portals within reason,
if you're generating land and porting at speed it will cause the server to lag
, we will have to take notice and consider that you may be deliberately causing lag, enquire and perhaps sanction.

User Ranks

All ranks can use /warp and use chat. Some warps may be limited to particular ranks. A user's jurisdiction elevates up the ranks. Additional rights are granted not for a user's rank but for their aptitude and behaviour.
Default
- colour: white - no building, no destroying, only chat access.
Trusted
- colour: light green - Building and destroying rights
VIP
- colour: green - building and destroying rights. promote default, demote trusted. Spawn up to 64 of an item. tp to other users and other users to you.
Mod
- colour: light blue - building and destroying rights. promote default and Trusted. Spawn up to 1024 of an item. tp to other users and other users to you.
Admin
- Colour: orange - building and destroying rights. promote default, Trusted and VIP. Grants additional rights. Can do anything.

Application guide

Our server is located in Texas, US, but we accept players from all over the world.
New users
will have automatic access to the server. To gain Trusted status they will have to contact a VIP or above in game, you will then be asked if you have/to read the rules and you will need to promise no to break the rules, once we have your word you will be promoted. We will know soon enough if you have broken the rules and we will act accordingly, your stay would not last long. If you are honest then you may then proceed to build in any unoccupied area unless given permission by the land owner. We do not need to know your location, age, real name or so, you only need to assert yourself as a respectable member of the server.
VIP
ranks are not given lightly, you would have the ability to promote and demote, so you will have much importance to the server. We only give this rank to users who have proven themselves capable and respectable in the community, we also need to know that you have the correct judgement to decide who is promoted and demoted.
Mod
ranks are mostly reserved for users who have been with Minecraft Republic from the beginning yet who don't administer the server, although, we respect that there are honest and respectable users who could be eligible for this rank. So, users who have ascended to VIP have the opportunity to attain this rank, mods need to be able to assist admins like their in-game 'right-hand-man's, because of the task of hosting the server, admins need mods to keep the community peace. Mods also need to be able to extend judgement to VIPs who may need help.
Admins
are users who run the server and work to provide fun features while keeping everything stable, this ranks will be off limits unless you are helping with the hosting.

Links and Communication

Server login:
Minecraft.theion.org
minerepub.theion.org
server hosting Specifications:
OS: Windows Server 2008 64-bit Standard Edition
CPU: Intel Xeon Quad Core
RAM: 24GB DDR3
64GB SSD
10TB backup drive
Communication:
IRC server: Blitzed
IRC channel: #mcr-chat = IRC to Minecraft chat
#mcr = IRC ONLY chat
Features:
Worldedit*
Cuboid*
Item spawning*
teleporting*
Cross-server portals
Minecart Mania
Unlimited health
Warps
Ranks - rights
24/7 Dedicated
Main map
The Nether
Old PCG
PvP (Sides)
Madness (Worldedit/cuboid) map
Event maps - Fourtowers, Escapecraft
Mods and Plugins
WorldGuard
GriefAlert
QuickPort
WorldEdit
VaultWarps
Promoter
MinecartMania
ServerPort
CuboidPlugin
iChat

Minecraft Republic Staff and other Ranks

Founders
KsaRedFx
Admins
KsaRedFx, natani.
Mods
Roatse, SnyTe, AresUK, Legibryn, ClanThrasher, Crunchberry, Jexx, JTJdude.

Changelog

21/3/11 - Posted thread! Yay!
[-'-] Extras [-'-]
Copy this into your signature to support Mine Realms:
[url=http://www.minecraftforum.net/viewtopic.php?f=1025&t=236469][img]http://i177.photobucket.com/albums/w214/fingermutt/Minerealmssig.jpg[/img][/url]